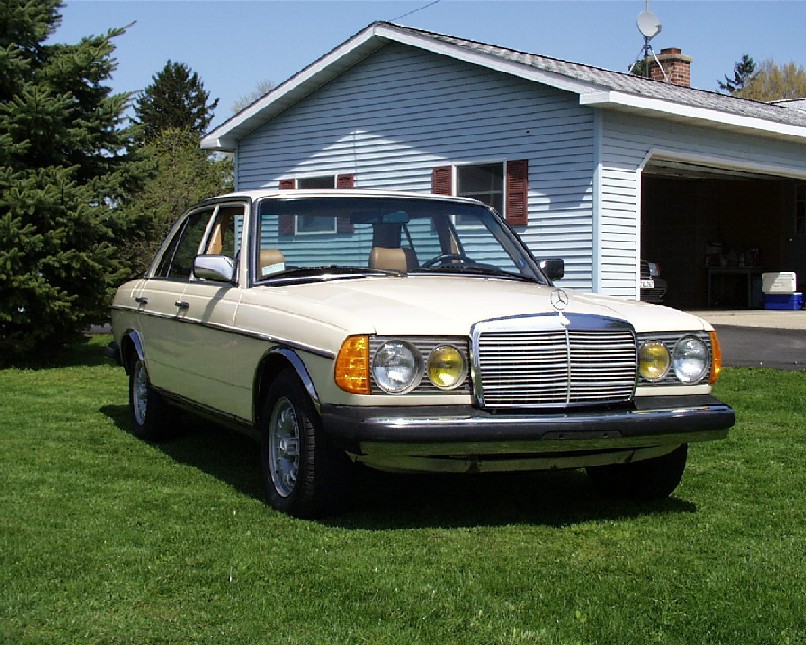 Please note the payment and transactional details noted after the description.
If you have questions, ask 'em.
Know what you're buying, and how you're buying it before you bid.
All small pics are thumbnails. Click on them for a larger view.
Up for auction is a 1982 Mercedes-Benz 240D sedan. Sand Beige outside, Palomino MB Tex interior. A/C, cruise, power steering and brakes, power sunroof, four cylinder diesel engine, four speed manual transmission. Here's a Carfax report on it. Exceptionally nice body.....virtually none of the rust that you normally find on these cars.



The engine, and most related parts have the odometer mileage (092,500). I purchased this car with a damaged engine, no records, and a non-working odometer but in the cosmetic interior/exterior condition as it stands (other than swapping any damaged trim/mldgs. that I had available). The engine with all related accessories (and the instrument cluster with working odometer) was removed from a '78 240D with 92,000 actual miles.

Note the instrument cluster. In all of the MB's I've ever had, or worked on, I've NEVER seen one with a temp gauge in Fahrenheit, and an oil gauge calibrated in PSI. Interesting. The clock works perfectly also. The '78 donor car had been sideswiped, and had been setting since about 1990. Mileage appears to be correct according to the service records....which are included, along with the '78's manuals. The '82's manuals and books were not present.. Because of the condition of the engine, drivetrain, and related parts of the donor car, I used ALL the 1978 underhood parts in the engine conversion, with exception of the cruise actuator and the accelerator linkage.

Radiator & hoses, A/C compressor & lines (the '78 had the far more dependable York compressor),

and all engine accessories are correct for the (non-egr) 1978. Everything works, A/C blows COLD (freshly flushed, evacuated, and recharged with R12...yes....R12). As I finished charging it, the a/c thermometer I placed in the center dash outlet read 44 degrees. This '82 does not have the troublesome climate control used in the 300 series W123 cars. This has simple, idiot proof and trouble free manual heat & A/C controls. New A/C compressor discharge hose (the '78-'82 conversion required a different fitting at the condenser....and I have A/C hose-crimping equipment), new thermostat, all filters replaced, new injector return lines (correct MB cloth braided ones. Anything else leaks and looks like death.), new Interstate battery, new (pencil-style) glow plugs, and valves have been adjusted. Alternator and starter are recent rebuilts, as evidenced by the tags. Under the hood it's clean, dry, and everything is "just so"...it all looks, operates, and is installed just as it was meant to be. All "service" items and entire engine compartment layout is "1978". You will NOT find this a "crossbred" nightmare. It's done right....I'm fussy, and thorough.

Windows are "crank"...no power window grief down the road). Power sunroof is 100%. Nice freshly blasted and basecoat/clearcoat refinished alloy wheels

, and a nice matched set of 195/70R14 Michelin "Green X" tires,

fresh 4 wheel alignment. Stainless fender trim is new. What was on the car had some door dings. Side moldings are all nice. I sorted through my stash and replaced those that were door-dinged. Undercarriage/floorpan is nice. No surprises under there, and exhaust system is in good shape. It had (very typical for W123 cars, unfortunately) rust from a leaking battery....which I sandblasted, repaired, resealed and rustproofed correctly. I checked the front brakes (they were near new) and repacked the bearings...and I replaced the rear brakes, rotors and all. Parking brake works fine....which is nice with a manual transmission car. MB Tex interior is nice for a 20 year old car. Not perfect, but nice.




There's a small crack and a little wear on the driver's seat back (down low on the outside bolster),

and the typical windlace wear/fraying on each (front) side from the seatbelts.

No dash cracks, wood is NICE, no butchery/modifications anywhere (except one hidden screw to repair the notorious W123 "broken plastic door pocket" flaw). All the controls/switches look and work "right" along with all instrument/control/courtesy/indicator lights. Manual "fast" idle adjustment knob on dash also operates correctly.

Lighter and light in ashtray work, and ashtray looks virtually unused. Original/correct Becker AM/FM/cassette, and original Becker power antenna work 100% (but it sure does illustrate the *advancements* made in car stereo since 1982. Really mediocre stereo, but I absolutely HATE the look of anything but the stock stuff). Note that it's also equipped with a passenger side rear view mirror, which is an oddity in a 240D. I had a nice one in my stash. Carpets are better than "acceptable", but not "really mint". No nasty rips/stains, but some wear....but it has a NICE set of (new/matching) carpet mats. Headliner is ok, could use some more scrubbing. Certainly presentable as it is. Door jambs are NICE. NO RUST. Doors & windows seal tight, no wind noises/rattles. Central locking system works flawlessly. No vacuum leaks now. I replaced some fittings, a check valve, and one door lock servo in the process of making it operate correctly. Since it's vacuum operated, I'll mention it here. The motor also shuts down CORRECTLY. No lags, slow shutdown, anything, which is another common stupid trick of these cars when the vacuum system's not 100%. Trunk is equally nice inside....and stays dry.....nice original (clean) carpet,

all plastic liners and trim are just as they're supposed to be, and I also added the '78's rubber trunk mat (pristine) to protect the '82's carpeted one. Spare tire is an alloy wheel, with the correct holddown hardware. I didn't refinish the spare rim, and the tire's not a matching Michelin, but it's a decent tire, and the correct size.

No jack or tools, unfortunately.
You may consider the price high for a car of this age....if so, don't bid. If you're looking for utter perfection with nary a blemish, you're not going to find it here or anywhere else for less than $3000. It's not negotiable, and I'm not interested in trades. It's a nice driving, dependable, presentable, comfortable old car....I trust it implicitly...and it's my daily driver. I'd have no reservations about taking off across the continent in this car tomorrow. It drives great (as the W123 cars do when in good condition) feels solid, and the manual transmission makes it acceptably zippy compared to a 240D with an automatic. (A kid on a skateboard can out-accelerate an automatic 240D). If I sell it, I've got to find something else....so if it won't bring the money I want out of it, I'm perfectly happy to drive it. Contact me for any/all questions or additional information.
Contact info/Transactional Detail/Fine Print/etc.
ANY QUESTIONS...contact Jim at Everything Automotive, (989)-235-4000 8:00-6:00 EDT or email jim@msdra.com. If you have questions, please ask BEFORE you bid. Your bid is binding. Check my feedback, ask questions, know what you're buying and who you're buying it from. Bid with confidence. If I decide to be a crook someday, it'll be like Enron.....I'd consider screwing up my reputation for several million dollars, but not a lousy few thousand dollars on eBay! I'm honest. You're safe.
I only ask two things......don't ask the "reserve" (I will not disclose it) and please don't waste my time, and I promise not to waste yours. Thanks!
Seller is a licensed and bonded Michigan Vehicle Dealer. ALL purchasers will pay 6% sales tax, and a $10 title fee IN ADDITION to your winning bid amount. Sorry about the sales tax. I don't make the rules....the State of Michigan does.
Until reserve is met, Seller reserves the right to end auction early, and vehicle is subject to prior sale on location.
Vehicle is sold AS-IS, WHERE-IS with NO warranty expressed or implied. FOB Crystal, MI. Insured delivery (on open carrier) available within a 250 mile radius available at $1.75/mi.
10% NON-REFUNDABLE deposit (cash, Visa/MC, Paypal, funds transfer, cashier's check) required within 24 hours of auction closing. Balance (cash or cashier's/certified check ONLY) required within 7 days.