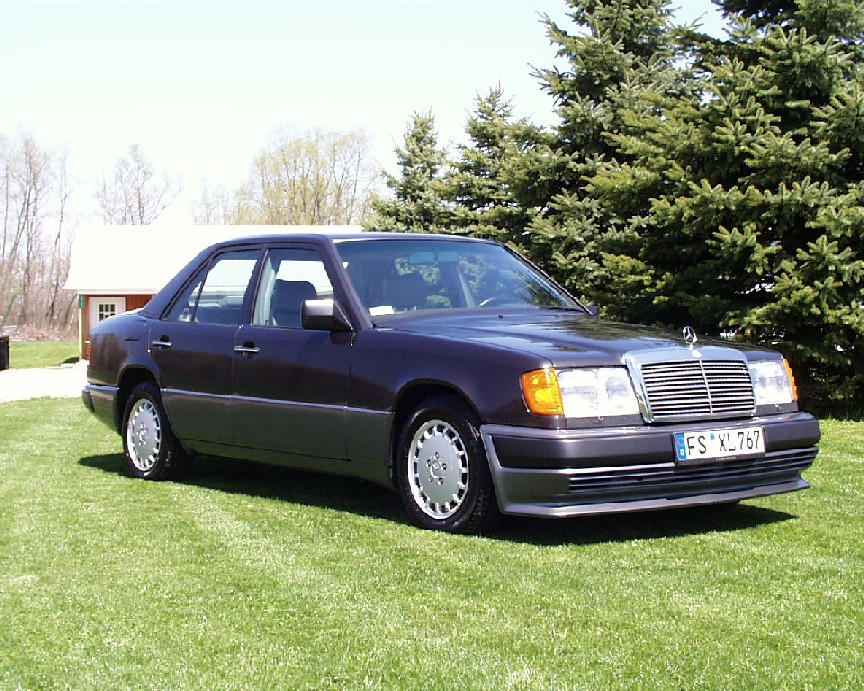 $7000 + tax/title/transfer fees
Please note the payment and transactional details noted after the description.
If you have questions, ask 'em.
All small pics are thumbnails. Click on them for a larger view.
Up for auction is a 1992 Mercedes-Benz 300E 3.0. Vehicle is full optioned, including ASR. Nice color combination….Black Pearl upper, charcoal grey cladding and bumpers, blue-grey leather inside.



Outstandingly well-maintained and kept, but high miles (186K and counting....right now it's my "driver")

and (unfortunately) no service records (More on that later. Odd deal…). I took the car in on trade from my father recently when he purchased an "S" class I had around….after selling this 300E to him about a year ago. Here's a current Carfax report on this car. He's put about 10K trouble-free miles on the car since purchasing it last spring. (Carfax shows it not being "sold" until early July. Must be he drove it for a couple of months on one of my dealer plates.) Here's what I know has been done…because I've done it since he/I have owned it. NEW….not used European headlights (the US-spec headlights in the W124 cars are absolutely, positively abysmal.) He hated driving it after dark, and that was my fix.

They look especially nice with the Zender front spoiler/fascia that I added, also. New brake pads/rotors F & R. New radiator and thermostat and cooling system flush. Four-wheel alignment. Transmission service/filter. A/C (still R12) service. Rebuilt (correct) Becker power antenna (for that matter, it's not back yet). New Interstate battery.

The cosmetics are 100% inside and out. It's clean, because I'd guess it's never really been dirty.





Carpet is nice, and they're covered with a matching set of carpeted mats that are nice, but do show a few battle scars. Absolutely EVERYTHING works perfectly….cruise, power options like windows, sunroof, steering column telescope, seat (with memory), mirrors, climate control system, remote rear headrest controls, central locking system, and the original correct Becker stereo/cassette (with "code" cards).

It's clean and dry inside, outside, under the hood,



and under the car. Hood blanket is clean/nice, also.
Absolutely NO rust ANYWHERE. I even pulled the rocker cladding off a year ago before I sold it to check behind. I didn't want to sell my father a car with "issues" because I'd just end up fixing them. It's NICE. Paint is nice. Not perfect…it's 10 years old…..and probably 3/4ths original, but I'll stand by my description of "nice".

No apologies.

It starts/runs/drives flawlessly. Buy it and drive in any given direction until you hit an ocean with absolutely NO worries (if you don't stop before you hit an ocean, you're on your own. Do airbags count as a life jacket?). You will purchase it freshly serviced and ready to roll. It'll get close to 20 mpg with the cruise set on 80. Even with the high miles, the engine (and chassis) is perfectly smooth and quiet. No leaks, no smoke, even at cold start-up…oil consumption is negligible. It's "down" a little when it's time to change it, but never to the "add". It's tight, quiet, and fast. It has a good matched set of Michelin Arctic Alpin tires (easily better than half there)

and cosmetically nice alloys. Trunks is spotless.

Spare is the unused factory original Michelin on an alloy also, accompanied by the jack and the tool kit still in the plastic bag.

The first aid kit is still in it's proper place in the rear package shelf, also.

All trim/chrome/etc is nice…..all the grille stripping is straight. Hood star and grille badge are mint.

Now I'll attempt to trash it. Inside….the piping on the armrest has a few cracks in it.

The color of the armrest's fine. I did *something* stupid with Photoshop trying to get that pic lightened up. There are four hairline cracks in the console wood; two directly behind the shifter, and two little ones out of the corner of the lr window switch.

The rest of the wood is as new. There is a tiny ding in the chrome strip in the top of the cladding on the right rear door. There's a little scuff on the black "rub strip" on the rear bumper.

Chrome strips on the rocker scuff plates in the door jambs have a few dings/waves. Trip odometer won't reset (which seems to be a common ailment…I've seen several MB's in this era with the same stupidity.) but the speedometer and "total miles" odometer work fine. There's a few stone pecks in the front fenders, hood and the fillers below the headlights. Nothing obnoxious. It's a nice car, but it's 10 years old and has covered a lot of ground.

There's a couple small stone pecks in the (original) windshield. No crack or "bullseye"…just pecks. There's a small scuff on one corner of the sunroof. Not to the metal…just a scar in the paint.

Headlight washer/wipers (that operated fine) were removed when I installed the Euro lights. Not a big deal to us, but might be to you. If you want them, you can have 'em. It's not impossible to install the US-spec wipers on the Euro lights, but I'm not going to mess with it. Finally, the rear section of the exhaust (from the flanged connection under the rear seat to the rear) will need replacing soon. It's not hanging/leaking/missing….it just needs replacing fairly soon. I'm not going to "throw it in", so please don't ask.

Service record (ie: lack therof) issues. I saw the service records and books before I purchased the car a year ago, I looked through them…..they were complete, and up to date. ALL of the common W124 issues/glitches had been touched upon….cylinder head gasket, plug wires, regular tune ups, radio had been replaced under warranty, brakes, shocks, on and on and on. This guy had a record of every nickel he'd put in the car since "day one" (he'd leased it new, then bought it at the end of the lease). Between the time I looked at the car, and the time I purchased it, while it was somewhere getting serviced/repaired the leather folder with the manuals, books, and all the records was stolen out of the door pocket. True story….but it's simply my word, so you'll have to judge the car on it's own merits. I did come up with a (replacement) owner's manual that comes with it.

It's a well-represented, nice car.....and the price is right.....SUBSTANTIALLY lower than "book". Feel free to check www.kbb.com and keep me honest.

I would consider Mercedes-Benz trades.

Contact info/Transactional Detail/Fine Print/etc.

ANY QUESTIONS...contact Jim at Everything Automotive, (989)-235-4000 8:00-6:00 EDT or email jim@msdra.com. If you have questions, please ask BEFORE you bid. Your bid is binding. Check my feedback, ask questions, know what you're buying and who you're buying it from. Bid with confidence. If I decide to be a crook someday, it'll be like Enron.....I'd consider screwing up my reputation for several million dollars, but not a lousy few thousand dollars on eBay! I'm honest. You're safe.

I only ask two things......don't ask the "reserve" (I will not disclose it) and please don't waste my time, and I promise not to waste yours. Thanks!

Seller is a licensed and bonded Michigan Vehicle Dealer. ALL purchasers will pay 6% sales tax, and a $10 title fee IN ADDITION to your winning bid amount. Sorry about the sales tax. I don't make the rules....the State of Michigan does.

I've had some questions concerning "Why do I pay Sales Tax if I live outside of Michigan? It's confusing, I agree. Here is the page directly from the State of Michigan's Auto Dealer Handbook

Until reserve is met, Seller reserves the right to end auction early, and vehicle is subject to prior sale on location.

Vehicle is sold AS-IS, WHERE-IS with NO warranty expressed or implied. FOB Crystal, MI. Insured delivery (on open carrier) available within a 250 mile radius available at $1.75/mi.

10% NON-REFUNDABLE deposit (cash, Visa/MC, Paypal, funds transfer, cashier's check) required within 24 hours of auction closing. Balance (cash or cashier's/certified check ONLY) required within 7 days.