1972 Mercedes-Benz 300SEL 4.5
Power steering/brakes/windows, A/C. No sunroof.
Some history, and all restoration receipts. Rebuilt front suspension (new kingpins, trunnions, bushings, mounts, everything), European headlights w/fogs & driving lights, new wool carpets, new weatherstripping throughout, new exhaust, refinished (burled elm) interior wood, new brakes, new Michelins, all tools and owner's manual. Absolutely NO rust ever, correct, presentable and solid inside, outside, and upside down. Fresh from storage.
Car runs/drives nicely, all accessories work including all central locking system functions.
As removed from storage, needing a little tinkering/t.l.c. $6500 FOB Crystal, MI.
(989) 235-4000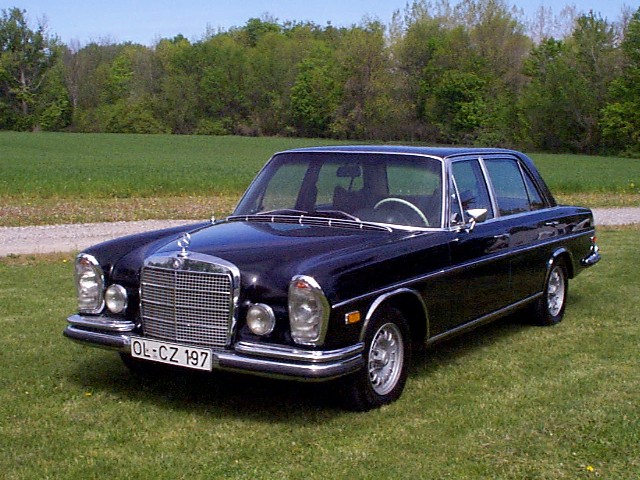 A little history....
I purchased this car in 1991 wearing this repaint, but needing a ton of cosmetic, interior, and suspension work. Sun (Arizona) had taken it's toll on the leather and all the rubber and nothing worked....all it did was "run & drive". At the time, I was building it as a "keeper".
First I went through the front end. I removed the front suspension in it's entirety, and replaced everything. Kingpins, trunnions, bushings, subframe mounts, shocks, brakes, brake hoses, and some of the steel air lines for the suspension. Rear suspension checked out fine, and only the shocks and brakes were replaced. After the suspension work, it received four new 205/70-14 Michelin MXV's and five blasted and refinished alloy wheels.
I'd purchased the car with a non-working speedometer showing about 75K miles, as I remember. I replaced the drive gears in the tailshaft housing of the transmission, and after that the speedo worked fine.
Engine/transmission was 100%. All I did was adjust the valves, service it, replace filters, and do a major tune-up...cap/rotor/wires, ignition points, and the F/I trigger points (located in the lower 1/2 of the distributor). Too bad modern electronic F/I isn't this simple.....idle speed adjustment on the intake.....idle mixture knob on the computer.....but I digress... Exhaust system was replaced at this time....OEM....right down to the chrome tips.
The interior was a certified disaster. The wood was undamaged, but the finish was shot, and the seats, carpets, and all the weatherstrips were sun-dried/oxidized to the point where they crumbled at a touch. Also....only ONE of the four power windows worked. Also, it sported some sort of cheapo aftermarket radio, but fortunately, they didn't butcher the dash installing it.
I purchased an ENTIRE interior from a parts car in Massachusetts, and had it freighted in. Ron's Restorations in Atlanta, GA made the carpets throughout (FANTASTIC workmanship.....call him...) and re-did the kick panels, underdash A/C cover, and the rear package shelf. When replacing the weatherstripping and window motors, I ferreted out all the vacuum leaks/faults in the locking system, and also stripped and refinished the door jambs and sills, and added four NOS rubber rocker/door sill mats. A correctly internally rebuilt and cosmetically restored Becker Mexico AM/FM/cassette was also installed upon reassembly of the dash.
All restoration was done in the first year that I owned the car. Over the next several years I drove it (sporadically) in nice weather, putting 5K or so miles on it.
In spring of '99 I expanded/altered my business (going into specialty restoration, cars, etc. full time), and needed the space (and the money) the car was taking up, and regretfully sold it.
The purchaser put several thousand miles on it the first summer, (correctly) stored the car for the winter, and never drove it again due to personal circumstances. When it came into my possession again a few weeks ago, I removed the car from the garage where it had been stored , washed it, replaced the battery, and took these pictures. I've driven it only a few miles since.
The envelope of receipts was still in the trunk when I got it back. I'd forgotten how much $$ I'd spent on this car. Suffice it to say that if I add the above mentioned $6500 to what I sold it for the first time.....I'm STILL losing money. Ouch. I wished I could stop fallin' in love with these things.
GLITCHES, etc.
The car runs/drives as nice as it ever did, but I'd suggest going over it with a fine-toothed comb before any long distance jaunts.....it's 30 years old....and it's been setting for a couple years. My (possibly paranoid) opinion only...
| | |
| --- | --- |
| | A/C needs a charge. All system components are 100%. It was charged with R12 and working when I previously sold it. |
| | Air suspension..... When I removed it from storage, the rear was still "up" but the front wasn't. It appears to have a (very minor) leak in the front somewhere. Rear stays up forever, front stays up for 24-36 hours. (Addendum: After being "out" and "run" it appears to be staying up in excess of 48 hrs.) |
| | Speedo Cable. Speedometer cable twisted off since removal from storage (Sat. 5/25, for that matter). If a W123 cable is the same, I'll replace it with one I have here. Other than that, you're on your own. Either way, you're buying it "actual miles unknown" due to age and prior history, or lack therof. |
| | Fuel gauge acts "stupid" intermittently when below 1/4 tank. "Low Fuel" light is working and unaffected, and gauge functions flawlessly when above this point. All the other gauges/switches/etc. function and look flawless. |
| | Heater/defroster levers. Broken. Typical 108/109 body grief. Replacements are readily available. This does not affect the operation of the heater, defroster, and fan. |
| | Windshield washer bottle is missing. |
VIN number is 109.057-12-001089. Mercedes didn't change to the industry standard numbering system until the mid '70s, so Carfax won't "work". Vehicle IS US-spec.....not "grey market".



NICE 10+year old repaint. All chrome is original. Most of it is "really nice", the worst is still "good". Few dings/scars in some of the moldings, but it's 30 years old. No chips in windshield, but there is a "wiper mark" on the driver's side.


Nice under the hood. New hood blanket. Chrome air filter top cover is not original. It's the "correct" stuff, of course, but MB painted 'em. The chrome makes it look nicer and probably adds 10-20 hp...... At the time, I was sending a batch of stuff to a chrome shop for a customer and couldn't resist throwing that in with it.




ORIGINAL (!!!) 1972 leather seats. Some "character marks", but honest to goodness original. Carpets are new (custom made) from correct wool loop. There's also a set of Lloyd carpeted floor mats.


Rebuilt (correct) Becker "Mexico" AM/FM/cassette with WORKING seek/scan. Power antenna, also.

Trunk has custom (matching) wool carpet and spare tire cover. Under that is the pristine original rubber trunk mat. Note complete original tool roll, jack, and spare tire hold-down. Spare wheel/tire is a matching (used) Michelin and refinished alloy wheel.
Contact info/Transactional Detail/Fine Print/etc.
ANY QUESTIONS...contact Jim at Everything Automotive, (989)-235-4000 8:00-6:00 EDT or email jim@msdra.com. If you have questions, please ask BEFORE you bid. Your bid is binding. Check my feedback, ask questions, know what you're buying and who you're buying it from. Bid with confidence. If I decide to be a crook someday, it'll be like Enron.....I'd consider screwing up my reputation for several million dollars, but not a lousy few thousand dollars on eBay! I'm honest. You're safe.
If you have ANY negative feedback, for any reason, or a feedback rating of "0" your bid will be cancelled (once auction reaches reserve) unless you contact me BEFORE bidding. Unless you'd like to explain the circumstances (in a literate manner) I will simply choose to not do business with you if you been a problem to someone else.
I only ask two things......don't ask the "reserve" (I will not disclose it) and please don't waste my time, and I promise not to waste yours. Thanks!
Seller is a licensed and bonded Michigan Vehicle Dealer. ALL purchasers will pay 6% sales tax, and a $10 title fee IN ADDITION to your winning bid amount. Sorry about the sales tax. I don't make the rules....the State of Michigan does.
I've had some questions concerning "Why do I pay Sales Tax if I live outside of Michigan? It's confusing, I agree. Here is the page directly from the State of Michigan's Auto Dealer Handbook
Until reserve is met, Seller reserves the right to end auction early, and vehicle is subject to prior sale on location.
Vehicle is sold AS-IS, WHERE-IS with NO warranty expressed or implied. FOB Crystal, MI. Insured delivery (on open carrier) available within a 250 mile radius available at $1.75/mi.
10% NON-REFUNDABLE deposit (cash, Visa/MC, Paypal, funds transfer, cashier's check) required within 24 hours of auction closing. Balance (cash or cashier's/certified check ONLY) required within 7 days.