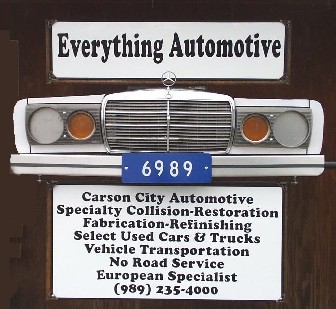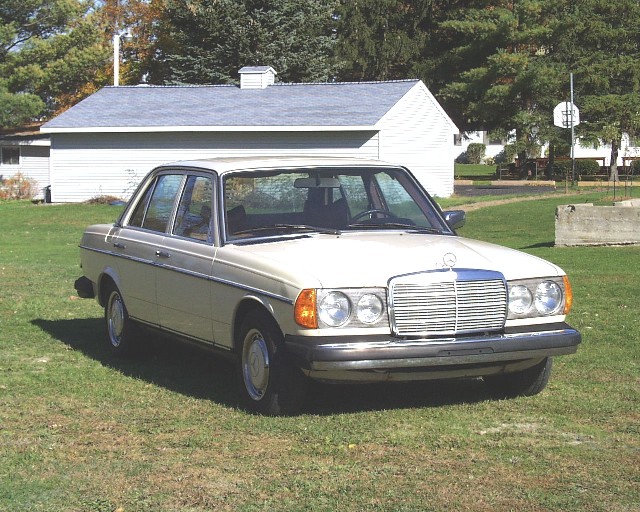 All pics are thumbnails. Click on 'em to expand.
I purchased this 1979 Mercedes-Benz 300D early in September after it had been stored over two years (under a cover), so it needs some TLC.....checked over, serviced, etc. before you blithely take off for parts unknown. It was stored due to the owner's extended health problems that resulted in his inability to use and enjoy the car. It starts and runs very well, the brakes work ,the tires are good, and it appears to drive normally, but I'll be the first to volunteer that all I've done is run it a couple miles down the road and back on a few occasions, and around in the lot.
The engine


starts quickly and easily, even when cold, and runs really GOOD. It performs well, keeping in mind it's your basic non-turbo OM617; the neighbor's kid on the skateboard can probably beat you to 25 mph (if he's got a moped you're probably dead meat 0-40). It'll run down the highway just dandy, but you're not gonna' win any drag races. There's no (abnormal) smoke, leaks, stupid and/or abnormal noises, nuthin'. It runs and idles smoothly, even upon initial cold starting and passes the "stick-'yer-finger-in-the-breather-hose-and-count -til-it-stalls" test for excessive blow-by with flying colors. The oil pressure is good....30#+ idling warm

Note gauges in this pic. The transmission shifts positively w/no "lag" when changing gears/directions. It also is equipped with a factory "block heater".
All four power windows work (I replaced the pass. rear window motor after it disappeared into the @#%&$ door....), but the sunroof guides/tracks are crudded up....the motor runs but the clutch slips after it slooooooowly opens a little. The power antenna (original) runs and extends, but does not fully retract.....it needs a new mast. All the gauges (even the clock) work, the original Becker radio works, heater works but there's no cold air from the A/C.....but I see it's already been converted to R134 so it might not be a big spendy deal. As is the case with 99.9% of old Mercedes-Benz, the cruise works intermittently. The central locking system works fine, but there's a vacuum leak somewhere, because it occasionally shuts down slowly. When I initially got the car running, the front brakes dragged. I pulled both front wheels, cleaned the scale (between the bad edges and the calipers) from setting and freed up the (easily half-there) brake pads and they function fine. I'd check them out before *I* drove it, flush/bleed the fluid out and replace it and generally check them over just because the car has sat......it stops evenly and all that but I'm *really* paranoid about brakes. There's a SMALL amount of play in the steering at highway speeds, also.

What makes this car so deserving of a litle time and money is the body and interior. The body is REALLY nice. In the famous words of an old buddy "It's as solid as Sears". All I know of the history is that it was in Florida through summer of 1993 and the undercarriage, fender

wells, trunk

floor, etc. bear witness to the fact that it ain't seen much (if any) salt. General outside cosmetics are nice except for the (typically) crazed and checked headlight doors. Other than one ding in the molding on the driver's side front fender, the side moldings are very nice. The bumpers are


exceptional....as nice as any W123 I've ever had here. The rear bumper isn't rusted off the shocks like every other one I get is. There's a few blisters in common spots....one under the lower molding on the front fenders, one lower rear w/w edge. The rockers and jack points are PERFECT. The trunk is clean and bone-dry also. The doors are 100% straight with no rust inside or out. The paint's faded, and the sun's taken it's toll on the horizontal surfaces. The hood is the worst

but there's the same delamination on the roof and the deck lid. It's a decent "twenty-footer" at best.
The interior is exceptional. I haven't even cleaned it up.....this is how I purchased it. The glass is all good, the dash ISN'T cracked, it's nice and clean inside and the seats aren't all blown out or broken down. The only flaw in any of the seats is a small worn spot near the driver's shoulder, and a few small cracks in the top of the center armrest. The carpets aren't faded and surprisingly presentable.
More questions? Ask 'em..... info@msdra.com or (989)235-4000 8:00-6:00 pm EST.

Transportation/Shipping
I have recently had the pleasure of dealing with an auto shipper that is not only VERY prompt and inexpensive, but, believe it or not, answers his own phone and email! Do yourself a favor. Visit Steve's website www.cornettautotransport.com, or call him at (423) 339-0921.

Contact info/Transactional Detail/Fine Print/etc.
FIRST AND FOREMOST: If you have a feedback rating of "0" or any negatives, You MUST contact me via email or phone BEFORE bidding or I wiil immediately cancel your bid and block your ID from further bidding in my auction. I'm sorry that I have to be so hard-core, but there's too many flakes out there playing with Mommy/Daddy's Computer. This isn't a game. I'm trying to make a living.
If you have ANY questions, or desire more information please contact Jim at Everything Automotive, (989)-235-4000 7:00am-9:00pm EST or email jim@msdra.com. If you have questions, please ask BEFORE you bid. Your bid is binding. Check my feedback, ask questions, know what you're buying and who you're buying it from. Bid with confidence. If I decide to be a crook someday, it'll be like Enron.....I'd consider screwing up my reputation for several million dollars, but not a lousy few thousand dollars here or on eBay! I'm honest. You're safe.
I only ask two things......don't ask the "reserve" (I will not disclose it) and please don't waste my time, and I promise not to waste yours. Thanks!
I will consider Mercedes-Benz trades, but please inquire BEFORE you bid.
Seller is a licensed and bonded Michigan Vehicle Dealer. ALL purchasers will pay 6% sales tax, and a $10 title fee IN ADDITION to your winning bid amount. Sorry about the sales tax. I don't make the rules....the State of Michigan does.
I've had some questions concerning "Why do I pay Sales Tax if I live outside of Michigan? It's confusing, I agree. Here is the page directly from the State of Michigan's Auto Dealer Handbook
Until reserve is met, Seller reserves the right to end auction early, and vehicle is subject to prior sale on location.
Vehicle is sold AS-IS, WHERE-IS with NO warranty expressed or implied. FOB Crystal, MI. Insured delivery (on open carrier) available within a 250 mile radius available at $1.75/mi.
$500 NON-REFUNDABLE deposit (cash, Paypal, funds transfer, cashier's check) required within 24 hours of auction closing. Balance (cash or cashier's/certified check ONLY) required within 7 days.
CLICK ON THE PICTURE BELOW TO RETURN TO THE EBAY LISTING