SOLD! Thank you!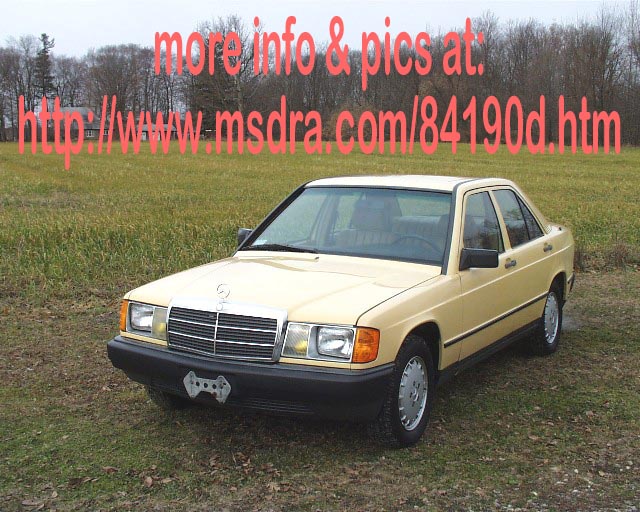 All small pics are thumbnails. Click on 'em for a larger view.
First year of the virtually bulletproof W201 chassis. Really outstanding old car under the weak (75-80% original) paint. Everything works 100% except the clock in the dash (radio clock works fine) and the (sickeningly typical) MB diesel cruise, which works "when it wants". It's a great "twenty-footer" polished up. These were taken after a whole day of buffing, glazing, detailing, and touching up chips.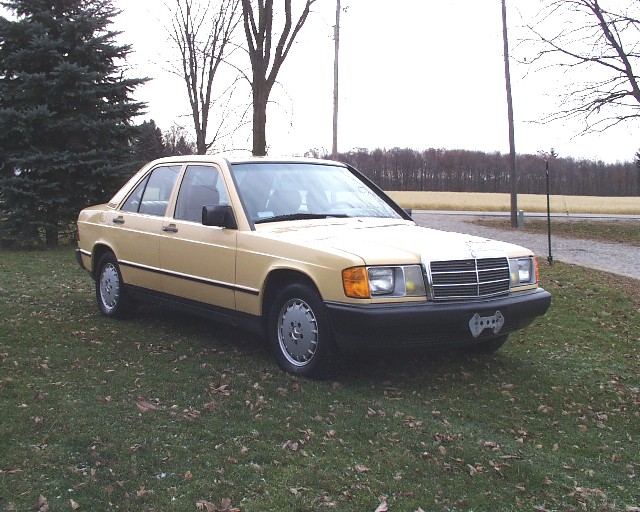 ......if you're up close, and picky like me, it's a little faded (it's 19 years old!), a few very minor blisters (SOLID body), some door dings & chips. 150K actual,

2.2 diesel & automatic. Original (barfy) Manila Beige #681/lt brn. int. Nice inside,




all the toys, switches, lights, and gizmos function correctly, the wood's nice (VERY minor checking on console plate)

no butchery or modifications, most options; power sunroof (non-"pop-up") and windows, (rare & operating) left power lumbar seat. Dash is nice...there's a couple of little 1" long cracks out of the corners of the speaker opening, but nothing nasty or glaring.

Owner's manual is present,

as is the first-aid kit in the rear package shelf. Climate control, central locking system and original Becker AM/FM/tape operate correctly, A/C compressor engages and appears to work (little hard to tell this time of year) . Even the (new) power antenna works...it's an "MB correct" Hirschmann replacement (*not* one of the "eBay one size misfits all" ones....), so the two-position function is eliminated. Foglight lenses are surprisingly nice...

usually they're clouded and checked. Clean and unmolested under the hood, too. New hood blanket, also (after these pics were taken)



and lower bellypan and all engine compartment seals are also all unmolested and correct. Trunk is clean and dry, carpet's nice,

spare & holddown hardware/tools/jack all there.

Someone's been nice to this car......new brakes, battery, complete exhaust (all OEM Mercedes), decent tires (easily 50%) & 5 (original 14"; 1984 only) alloys. I also noticed that the alternator, water pump, and glow plug controller are replacement items.
Now I'll ruthlessly tear it apart. I'm way beyond "picky"....."obsessive-compulsive" is closer. I've been accused of "underselling" cars in the past....but I'd rather do that than "oversell" it. First off, the reality of the situation. It's a really nice running and driving, well cared for, good looking 19 year old car.....but it IS 19 years old. It's not brand new, a restoration, or a cosmetically "doctored-up" mess (and it's not $50K +, either). I've already mentioned the cruise, dash clock, and the (little) cracks out of the speaker holes. Eagle-eyed individuals may find a few of the front views above with a cracked rh foglight lens.....I took some of the pics before I replaced it. There's some door dings in the right side.

There's a dent in the rt. front fenderwell lip that's been touched up where I'd guess someone ran over something.

Note, however, how clean the fenderwells are. As mentioned above, there's some very minor checking (no chips) in the console wood.

There's one worn spot low on the outside bolster of the driver's seat. Other than that, the (MB Tex) seats are mint. Door panels are equally nice (the pockets on the fronts are undamaged, also) EXCEPT for the top edge of the right rear...

The worst rust on the entire car is around the lr jack point. Nothing serious, but it should be taken care of.

Add $400 to your winning bid and I'll sandblast/reseal/refinish both rockers correctly and take care of it, or do the "buy it now" and I'll do it at no charge.
It's fully serviced, all filters replaced, and ready to drive anywhere. (I'll also include a copy of the W201 service manual on CD if you request.) I'm using it as a "daily driver", and I'd have NO reservations whatsoever about taking off for parts unknown with it. It's "tight" and quiet, dependable as hell, drives/operates absolutely perfectly, and gets GREAT mileage. For those (unfortunate) individuals that reside in a climate such as mine (Michigan) it starts GOOD in the cold.....and it has an operating (original) block heater. Started fine this morning (12/01) at 20 degrees w/o the heater plugged in.
Contact info/Transactional Detail/Fine Print/etc.
If you have ANY questions, or desire more information please contact Jim at Everything Automotive, (989)-235-4000 7:00am-9:00pm EST or email jim@msdra.com. If you have questions, please ask BEFORE you bid. Your bid is binding. Check my feedback, ask questions, know what you're buying and who you're buying it from. Bid with confidence. If I decide to be a crook someday, it'll be like Enron.....I'd consider screwing up my reputation for several million dollars, but not a lousy few thousand dollars on eBay! I'm honest. You're safe.
After the reserve is met, if you have a "feedback" rating of zero, or any negatives or bid retractions, please contact me by email or phone before bidding, or your bid will be politely cancelled.
"Reserve" is substantially less than the "buy it now". Seller will consider reasonable offers and reserves the right to end the auction early if reserve has not been met.
I only ask two things......don't ask the "reserve" (I will not disclose it) and please don't waste my time, and I promise not to waste yours. Thanks!
I will consider Mercedes-Benz trades, but please inquire BEFORE you bid.
Seller is a licensed and bonded Michigan Vehicle Dealer. ALL purchasers will pay 6% sales tax, and a $10 title fee IN ADDITION to your winning bid amount. Sorry about the sales tax. I don't make the rules....the State of Michigan does.
I've had some questions concerning "Why do I pay Sales Tax if I live outside of Michigan? It's confusing, I agree. Here is the page directly from the State of Michigan's Auto Dealer Handbook
Until reserve is met, Seller reserves the right to end auction early, and vehicle is subject to prior sale on location.
Vehicle is sold AS-IS, WHERE-IS with NO warranty expressed or implied. FOB Crystal, MI. Insured delivery (on open carrier) available within a 250 mile radius available at $1.75/mi.
Pickup arrangements can be made for Lansing (LAN) or Grand Rapids (GRR), MI airports. I can even assist you in booking a flight.
10% NON-REFUNDABLE deposit (cash, Paypal, funds transfer, cashier's check) required within 24 hours of auction closing. Balance (cash or cashier's/certified check ONLY) required within 7 days.
I wanna' go back to eBay and buy it!