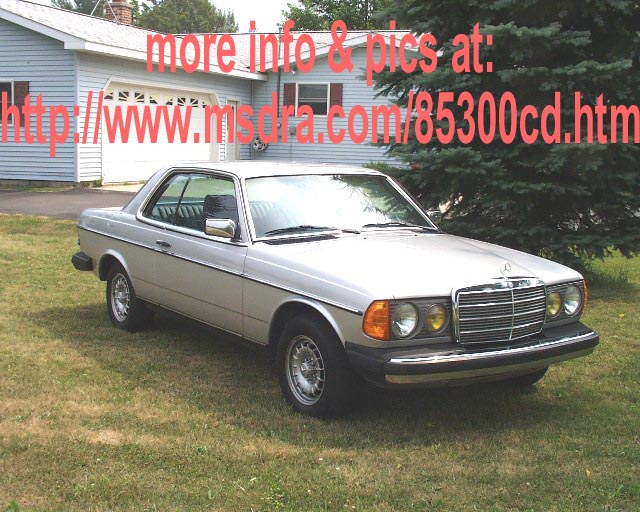 Please note the payment and transactional details noted after the description.
If you have questions, ask 'em.
All small pics are thumbnails. Click on them for a larger view.
The "Buy it Now" price is $7500, and includes correctly refinishing the alloy wheels and a new set of Michelins or "H" rated Bridgestones.
The "as-is" reserve is SUBSTANTIALLY lower.
A really nice, straight old Benz. The nicest W123 Mercedes I've ever had or seen, bar none. Astral silver, navy leather OM617 5-cylinder turbodiesel & automatic transmission. Power windows, alloys, sunroof, cruise, Becker AM/FM/tape,(cold!) a/c, no butchery/modifications, drives & rides just like it oughtta'. No oil usage, or leaks. Manuals, tools, and first aid kit are intact. No winters (South Carolina title history) and ABSOLUTELY NO RUST. You can peel up the carpets, lift the trunk mat, remove the trunk liners, put it up on a hoist, whatever you'd like. There's no rust now.....and there ain't any rust repairs, period. TONS-o-new parts........ Ready to drive absolutely anywhere.
Outside:
It's astral silver, paint's nice and shiny.....if it's a repaint, (and I'm not sure...) I'd like to lie to you and tell you I did it. In any event....it just plain looks "right". There's a few nicks & chips, but I'll stand firm on the description of "really nice".....the sides of the car are STRAIGHT and all the panel fit is just like a Benz is supposed to be. Chrome is all really nice. Side mouldings, bumpers, headlight surrounds, fog lights,

and grille stripping are all Grade-A. Also note that is has killer Bosch H4 headlights.....the cool "flat" ones. Illegal (heh....) but even better lighting than the Euro headlights in my W123 wagon.
Inside:
Navy leather, cut pile carpets, (new) Lloyd carpeted mats. Side panels are mint, door pockets aren't broken (there's a first...), headliner's mint. Another exception to W123 cars.......the glovebox latch isn't screwed up. The seats have new (correct) leather upholstery & padding front & rear, and I'd guess that the carpet's were replaced at the same time with correctly bound and seamed ones. The wood is all NICE....no cracks/gouges/etc.,

and dash cosmetics, gauges, switches, knobs, and trinkets are all nice. The rheostat for the dash lights even works right (amazing....). The (disgustingly mediocre but correct) Becker stereo/tape and the power antenna are cosmetically nice and work correctly. (an aside......WHY did/does MB use such crummy stereos? The radio in my beater/parts chaser Caravan outshines a Becker 10 times over.....) The manuals (no service records, unfortunately) are in the glovebox, the first aid kit is in the rear package shelf, and the (complete & correct) tool set

is in the trunk with the correct jack, alloy wheel, and hold-down hardware.

Trunk mat and liners are nice.
I've had a question concerning rear seat legroom/lack therof. Yes....a grown-up *can* fit back there.....but if you leave him/her there too long they'll be A) pissed off/cranky and B) possibly in need of a chiropractor. It works great for short runs, kids, and beer (beer stays cooler in the a/c than it does in the trunk.....clever, huh?). It's bigger than the backseat of the two-door Pinto I drove for a winter beater (back when I had hair and was in college).....but it ain't even a little bit like the rear seat of a W123 chassis four door. It's not a "two-door......it's a "coupe". Here's three pics.
Seat all the way back.......

Seat all the way ahead.....

Adjusted by my 6'1" Dad..

Underhood/mechanics
Under the hood everything's "correct" and unmolested, and everything works. It's been freshly serviced.....new filters, thermostat, and all fluids changed; it's clean (and stays that way), and everything is in it's proper place. The motor mounts are new (a common W123 ailment). The radiator is new (OE Behr), the a/c has new o-ring seals, a new dryer, new control relay, and is charged with R-12. All functions of the climate control system operate correctly including the secondary electric cooling fan. There's also a relatively new Interstate battery. I checked the brakes (someone had been there before me...they're 100%), and had a four-wheel alignment done. All the suspension parts are tight, it drives, rides, and handles 100%. The exhaust has been replaced recently enough that it still has a paper MB parts tag on the front muffler. It also has a (working) block heater.



The hood blanket is decent....and all the paint in the engine compartment is nice, and everything is where it's supposed to be. A/C and emissions decals on radiator support are also original and nice.
Flaws, etc.
It's a really nice presentable and inexpensive (for a coupe) 17 year old Benz. It's not "new", "perfect", or a "restoration". But....I'm terribly picky and obsessive compulsive, so I can ALWAYS find something to *bitch* about. There's a scratch in the drivers side front window from it being out of adjustment (I fixed that...) that is below my finger in the following pic.
There's a LITTLE

ding in the left side of the cowl where the hood hinge was out of adjustment (I fixed that, too). There's a stone chip in the windshield.

There's four little "door chips" (no dents) in the right door.

(The horizontal "line" in the door is the reflection of a sidewalk.......I told you it was shiny....). I assume that the top of the dash is cracked....it has a (suprisingly nice fitting and matching) dash cover

....NOT one of those God-awful carpet things.

Note this pic. The decal on the "temperature" wheel of the climate control head is certainly readable, but shows it's age. Also note that the window button for the passenger front is worn. Picky, picky.
There's a little wind whistle near the driver's rear view mirror.....17 year old weatherstripping........but NO water leaks....even with a pressure hose.
The only mechanical flaws I can find (and trust me, I've been through it from stem to stern) are the cruise....it works fine, but occasionally surges 2-3 mph, and the central locking system must have a very small vacuum leak (I checked the vacuum pump and it's strong).......if it sets for more than 24 hrs, both doors don't unlock with the key.... Minor.....but I want NO misunderstanding/misrepresentation.
It's got a matched set of Michelins that are soon due for replacement (they're still perfectly usable, safe, smooth riding), and some mental defective (not me!) has painted the rims with aerosol paint. Here's the worst one.

Not glaring.....but I said I was picky. Do the $7500 "Buy it Now" and I'll correctly refinish the alloys with bc/cc urethane, and put NEW tires on it.
Contact info/Transactional Detail/Fine Print/etc.
ANY QUESTIONS...contact Jim at Everything Automotive, (989)-235-4000 8:00-6:00 EDT or email jim@msdra.com. If you have questions, please ask BEFORE you bid. Your bid is binding. Check my feedback, ask questions, know what you're buying and who you're buying it from. Bid with confidence. If I decide to be a crook someday, it'll be like Enron.....I'd consider screwing up my reputation for several million dollars, but not a lousy few thousand dollars on eBay! I'm honest. You're safe.
I only ask two things......don't ask the "reserve" (I will not disclose it) and please don't waste my time, and I promise not to waste yours. Thanks!
I will consider Mercedes-Benz trades, but please inquire BEFORE you bid.
Seller is a licensed and bonded Michigan Vehicle Dealer. ALL purchasers will pay 6% sales tax, and a $10 title fee IN ADDITION to your winning bid amount. Sorry about the sales tax. I don't make the rules....the State of Michigan does.
I've had some questions concerning "Why do I pay Sales Tax if I live outside of Michigan? It's confusing, I agree. Here is the page directly from the State of Michigan's Auto Dealer Handbook
Until reserve is met, Seller reserves the right to end auction early, and vehicle is subject to prior sale on location.
Vehicle is sold AS-IS, WHERE-IS with NO warranty expressed or implied. FOB Crystal, MI. Insured delivery (on open carrier) available within a 250 mile radius available at $1.75/mi.
10% NON-REFUNDABLE deposit (cash, Visa/MC, Paypal, funds transfer, cashier's check) required within 24 hours of auction closing. Balance (cash or cashier's/certified check ONLY) required within 7 days.
I wanna' go back to eBay and buy it!