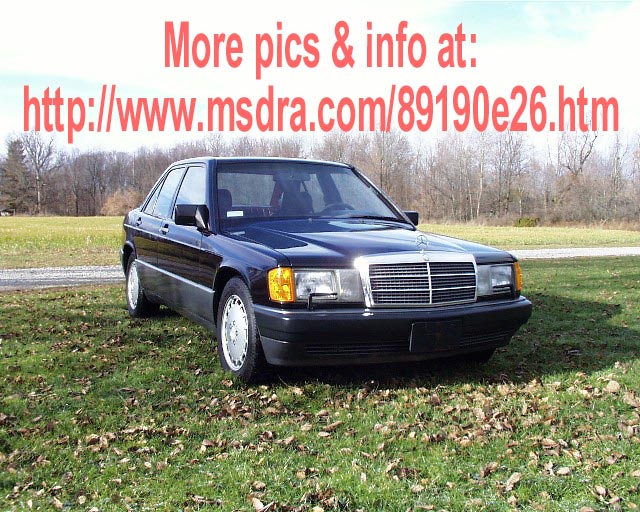 ALL THE SMALL PICS ARE THUMBNAILS-CLICK ON 'EM FOR FULL SIZE IMAGES
A "baby 500SEL". GORGEOUS, fast car. 2.6 six-cylinder/automatic transmission. Black #681/Alto Grey #DB7700 lower cladding, burgundy leather, virtually "all the toys", right down to headlight wipers. 107K well-cared for miles,

one owner (Carfax will show transfers......it's among family members for insurance reasons). This is, bar none, the nicest, and most attractively colored and optioned W201 sedan I've ever seen. I'd give my right arm to keep it.....but selling these (*whine*) is how I put food on the table. New rubber, new (stainless) exhaust, new alt. & battery, brakes, major tune-up, complete service and on and on and on..... Surprisingly good gas mileage.....in excess of 24 mpg at an 80+ cruise averaged over 600 miles....
Inside it's NICE.




Everything works, clean, and unmolested. Correctly operating (and typically mediocre) Becker stereo

and (correctly operating OEM two-position) power antenna. No stains, no tears, no marks and no cracks in the dash. The owner's manual is in the glove box.

(I'll also include a copy of the W201 service manual on CD if you request.) Carpet is equally nice.

No burns, wear or stains anywhere. Pockets on the door panels are undamaged. Door seals and moldings are as new, no leaks, whistles, anything. First aid kit is still in the box in the rear package shelf. All power options, the dash controls, gauges, lights, accessories and (power pop-up) sunroof work flawlessly, along with the cruise control, climate control, and central locking system. Trunk is equally nice, dry and clean. OEM mats, liners and carpet are as-new.

Everything is there....tool kit (still in the baggie), spare tire (never on the ground) and jack.

Outside it's equally nice.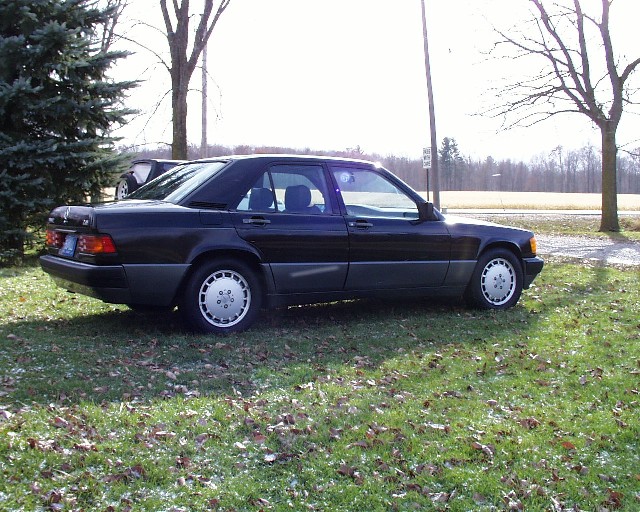 Paint is all original, except for a (professional.....I did it) spot repair to one rear fender (saving the original maroon/grey brushed-on stripes) and the deck lid. Finish is outstanding, considering the age of the car....there's a very few nicks and chips, but it's utterly amazing that a car this age (especially black) looks like it does. IT IS "STRAIGHT".....take a look.

Crummy (indoor) pic....but you can sight down the side and see just how straight it really is. There is ABSOLUTELY NO RUST ANYWHERE.

Inside, outside, underneath it, or under the lower body cladding. Trust me, I've looked. Door/hood/trunk jambs are all nice....you can attempt to tear this car apart in the nooks and crannies and you can't. Headlights lenses and foglight lenses are 100% perfect....NO clouding/crazing/chipping AT ALL, which is the exception for these cars.

Mechanically, it's clean, dry, and unmolested under the hood.

Everything is "in it's place", all decals and labels are intact, and the hood insulation blanket's new. As mentioned before, brakes (front and rear, using OEM pads and new wear sensors), exhaust, alternator, and battery have all been replaced, and a major tune-up and service has been performed (using the "right" stuff; Mann filters, Bosch plugs, etc.) including v/c gasket replacement, plugs, filters, thermostat, etc. Lower bellypan (and "toolcatcher"....grumble...) and all engine compartment seals are also all unmolested and correct. Tires are a recent replacement (I'd guess within 10k miles)...

they're good-quality Dunlop all-season "H" rated 195/65-15's. Even all the little stuff has been been attended to....new wiper blades on windshield and headlights and the (heated) washer system has been checked for correct operation. This car is 110% ready for a enjoyable drive "home" in any direction.
Driving impressions.....there almost aren't any.....that's how nice it drives. It's smooth, quiet, "quick", and great fun to drive. The W201 chassis has proven over the many years of it's production to be one of the finest handling cars Mercedes-Benz ever constructed; taut, lithe, almost BMW-like, but with a better ride. This car illustrates all of that....especially with the larger engine, and the suspension package that accompanies it. I deal in nice examples of older European iron (champagne tastes on a beer budget...) and this car is honestly far above even my (sometimes unrealistic) expectations. This is a real "keeper".
Now I'll ruthlessly tear it apart. I'm way beyond "picky"....."obsessive-compulsive" is closer. I've been accused of "underselling" cars in the past....but I'd rather do that than "oversell" it. There's a (very!) small door ding high in the rf door. The carpet on the rear package shelf is a little faded. (NO damage).

The top edges of both front (and not the rear....odd...) door panels are a little "dried out" from the sun.


There's a scratch in the rear window molding on the lower right corner. I'm runnin' outta' things to bitch about. Ok.....there's a couple chips in the finish on one alloy wheel, and one has a blemish where a balancing weight had been.

There's some chips in the finish on the air filter lid too. You'll have to expand this pic to see it....

but there's some MINOR "checks/cracks" in the console wood, but note that the symbols aren't even worn off the switches (which is REAL common).
Contact info/Transactional Detail/Fine Print/etc.
If you have ANY questions, or desire more information please contact Jim at Everything Automotive, (989)-235-4000 7:00am-9:00pm EST or email jim@msdra.com.
I only ask please don't waste my time, and I promise not to waste yours. Thanks!
I will consider Mercedes-Benz trades, but please inquire BEFORE you bid.
Seller is a licensed and bonded Michigan Vehicle Dealer. ALL purchasers will pay 6% sales tax, and a $10 title fee IN ADDITION to your winning bid amount. Sorry about the sales tax. I don't make the rules....the State of Michigan does.
I've had some questions concerning "Why do I pay Sales Tax if I live outside of Michigan? It's confusing, I agree. Here is the page directly from the State of Michigan's Auto Dealer Handbook
Vehicle is sold AS-IS, WHERE-IS with NO warranty expressed or implied. FOB Crystal, MI. Insured delivery (on open carrier) available within a 250 mile radius available at $1.75/mi.
Pickup arrangements can be made for Lansing (LAN) or Grand Rapids (GRR), MI airports. I can even assist you in booking a flight.
10% NON-REFUNDABLE deposit (cash, Paypal, funds transfer, cashier's check) required within 24 hours. Balance (cash or cashier's/certified check ONLY) required within 7 days.