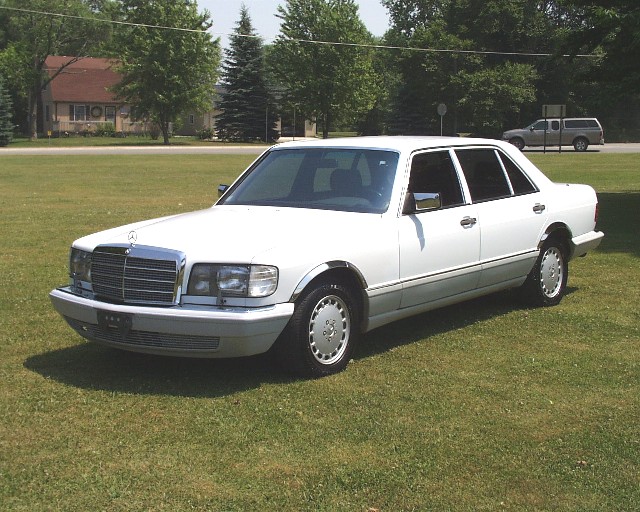 All small pics are thumbnails. Click on 'em for a larger view.
Look at all the pictures carefully. This is the nicest, cleanest, most original and well-cared for Mercedes Benz I've ever had the pleasure to own. It has been my father's "driver" for the last year. He (reluctantly) traded it back when purchasing an equally nice but smaller 190E that my mother finds much easier to maneuver. If you're not familiar with the "S-Class" Mercedes of this vintage, it should be mentioned that while just an unbelievable joy to drive, they are BIG. Make no mistake, this is the biggest of the big ones. Unless your neighbors have got a stretch limo.....you will have the biggest car on the block, and the size should be taken into consideration.
Here is a Carfax report from 1/02 when I first purchased the car. I don't remember exactly when I actually titled it out to my father (other than knowing it was before he took it to FL for the winter). A fresh Carfax report should show another title transaction about a year ago.
It's LOADED. It has (I think) every option that was available in addition to a set of NEW Euro lights with washer/wipers. Here's the (almost $60K) window sticker.

It's a huge picture, but you can read the details. It has 114,000 impeccably maintained miles, and the service records (and the condition) indicate the Florida winters. Absolutely EVERYTHING works FLAWLESSLY; the heated leather seats (both of which are power and memory), the climate control (which has a new condenser, dryer, all hoses, and a professional R134 conversion. Some criminal in Florida charged over $1500 to do it...), the cruise, all instruments,

the (original WITH "code cards") Becker AM/FM/Cassette and power antenna, all the windows and the numerous other gizmos. No apologies, everything, and I mean EVERYTHING works.
WAIT! UPDATE....after I talked to my father. I forgot... The stupid OEM Mercedes-Benz alarm system worked "too well".....and I unhooked it. Plug it back in, and it works fine....even if an ant farts near the car.
It has Bridgestone Potenza RE950 205/65-15 H-rated tires with about 10K on them, mounted on the original alloys.

The front end was aligned when the tires were installed.
Interior is NICE. Carpets have NO flaws, no burns, no stains just like every other surface inside the car. Seats, console, everything is MINT. Wood is perfect also, as are all the cosmetics on switches and control surfaces and levers. Note the pics of the rear seat area.....they are taken with the front seats ALL the way back. This thing is HUGE inside.
Nothing, including the rear package shelf, is faded one bit..probably due to the very dark tint on all windows except the windshield. The mostly-original paint (#147 White/#DB7738 Sato Grey) attest to the fact that it's surely always been garaged, and the total absence of door chips/dings/etc. tells me that it's owners have been fussy where they parked it (I'm one of those maniacs that parks a half-mile from the shopping center too. Makes my wife nuts...). There's a few chips and scratches (it's 13 years old!) but it is NICE.
It's equally pristine under the hood.

All decals, data tags, etc. are intact, and it has been recently serviced including fresh coolant and thermostat. NO leaks are evident, and it starts, runs, and operates exactly as it's supposed to.
Trunk is as-new also.

There's enough room for four sets of golf clubs and a couple of dead golfers. (Ancient History Lesson here: When I was in college, the true measure of a vehicle was how many cases of longnecks you could carry in the trunk. This car would have won, hands down.) Original spare, jack, instruction cards, and tool kit (still in baggie) are present.
Also present is the first-aid kit in the rear package shelf, and ALL books, etc. in the original leather zip-up folder.

I would have no reservations whatsoever about jumping in this car, turning up the stereo and A/C and driving in any direction until I hit an ocean. Fly in, jump in it, and you are king of the road.
Contact info/Transactional Detail/Fine Print/etc.
If you have ANY questions, or desire more information please contact Jim at Everything Automotive, (989)-235-4000 7:00am-9:00pm EST or email jim@msdra.com. If you have questions, please ask BEFORE you bid. Your bid is binding. Check my feedback, ask questions, know what you're buying and who you're buying it from. Bid with confidence. If I decide to be a crook someday, it'll be like Enron.....I'd consider screwing up my reputation for several million dollars, but not a lousy few thousand dollars here or on eBay! I'm honest. You're safe.
I only ask two things......don't ask the "reserve" (I will not disclose it) and please don't waste my time, and I promise not to waste yours. Thanks!
I will consider Mercedes-Benz trades, but please inquire BEFORE you bid.
Seller is a licensed and bonded Michigan Vehicle Dealer. ALL purchasers will pay 6% sales tax, and a $10 title fee IN ADDITION to your winning bid amount. Sorry about the sales tax. I don't make the rules....the State of Michigan does.
I've had some questions concerning "Why do I pay Sales Tax if I live outside of Michigan? It's confusing, I agree. Here is the page directly from the State of Michigan's Auto Dealer Handbook
Until reserve is met, Seller reserves the right to end auction early, and vehicle is subject to prior sale on location.
Vehicle is sold AS-IS, WHERE-IS with NO warranty expressed or implied. FOB Crystal, MI. Insured delivery (on open carrier) available within a 250 mile radius available at $1.75/mi.
Pickup arrangements can be made for Lansing (LAN) or Grand Rapids (GRR), MI airports. I can even assist you in booking a flight.
$500 NON-REFUNDABLE deposit (cash, Paypal, funds transfer, cashier's check) required within 24 hours of auction closing. Balance (cash or cashier's/certified check ONLY) required within 7 days.
CLICK ON THE PICTURE BELOW TO RETURN TO THE EBAY LISTING