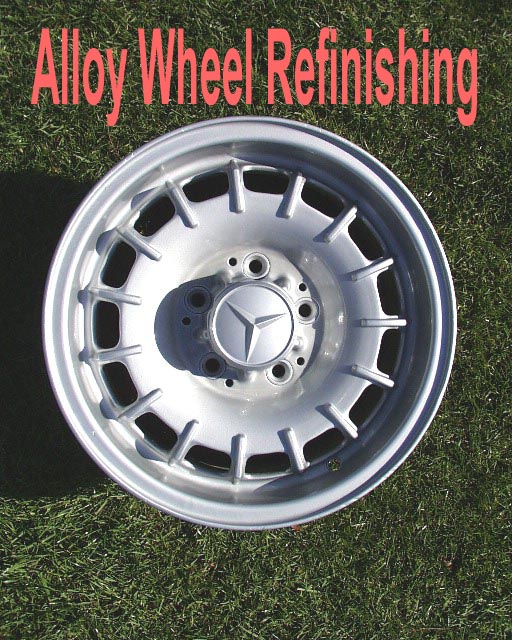 Ok, you've done the spray-bomb "Griot's Garage" job or the equivalent. They look great, huh? Until you drive it/use it/wash it. You can't do it "right" with spray cans. Sorry. It's discouraging. No matter how hard you work, it doesn't get it. Air-dry paints just do not have the durability necessary for the harsh environment your wheels live in....unless you just trailer it around and look at it.
I can do it two ways.....two prices, too.
The $60 per rim "Schieb" job.
Tires on, outside only, mask the valve stems. NO paint on yer' tires, either. No "curb rash" repairs....just lightly blasted/primed/painted the "correct" color and semi-gloss lustre ( do you know what the correct color is? I do...) with Sherwin-Williams bc/cc urethane, and when it's cured, you can beat 'em with a chain and they'll look just fine.
Here's an example.....and "Yes, Virginia, this IS the same rim".
Or....I can do it "really right" @ $50/hr.
Tires off, blast & clean inside and out, file/sand/work out the curb rash as best possible, refinish, and if desired, replace valve stems with the RIGHT ones (that your local tire store probably ain't never seen).
Here's two examples of what can be done with "curb rash". Files are huge....but you can see the details. Both of these have scraped a curb pretty hard. The one on top is the worst, but these are worth messin' with. They're (rare) 6 1/2" wide, 30 mm offset.....not the generic 6" ones that I've got all over the place....and they're goin' on my own W123 wagon shod with H-rated 225/60-14's unless someone antes up and buys 'em.
As you can see, the really deep gouges are still a little evident, but when they're buffed with fine wheels, bead blasted, primed, and refinished, you'll have to look awfully close.

Sandblasted....then glass-beaded to smooth the surface up somewhat. The coarse sand leaves 'em rougher than I like, and I don't like putting a lot of primer on them.....the thinner the final finish, the more chip-resistant they are.

Primed with (impressively ugly) green self-etching primer. This will be allowed to cure, then Scotch-Brighted and the bc/cc final finish applied.

Finished and ready for tires, or a new home.

Here's a high-resolution pic of the roughest one (as noted above) after the final finish.
Wheels as rough as these would be in the $100-$150 (each) range.....which is an insane amount of money to spend on the far more common 6" bundts, unless you choose to do some of your own prep work. (Hint: You could save a bunch by bringing your rims AFTER they were sandblasted. DON'T sandblast the plastic center caps!)
Got your own spray gun? Wanna' do it yourself? I can sell you the necessary materials if you'd like.
1 qt. reduced (ready to spray) Sherwin-Williams basecoat in the correct color $60.00
1 qt. Sherwin-Williams urethane clear, with fast reducer, catalyst, and flatting base $70.00
Hazardous Material Shipping (in the lower 48 States) $25.00
TOTAL $155.00