Please be patient....this page is gonna load a little slow, but the details and pics are worth the wait.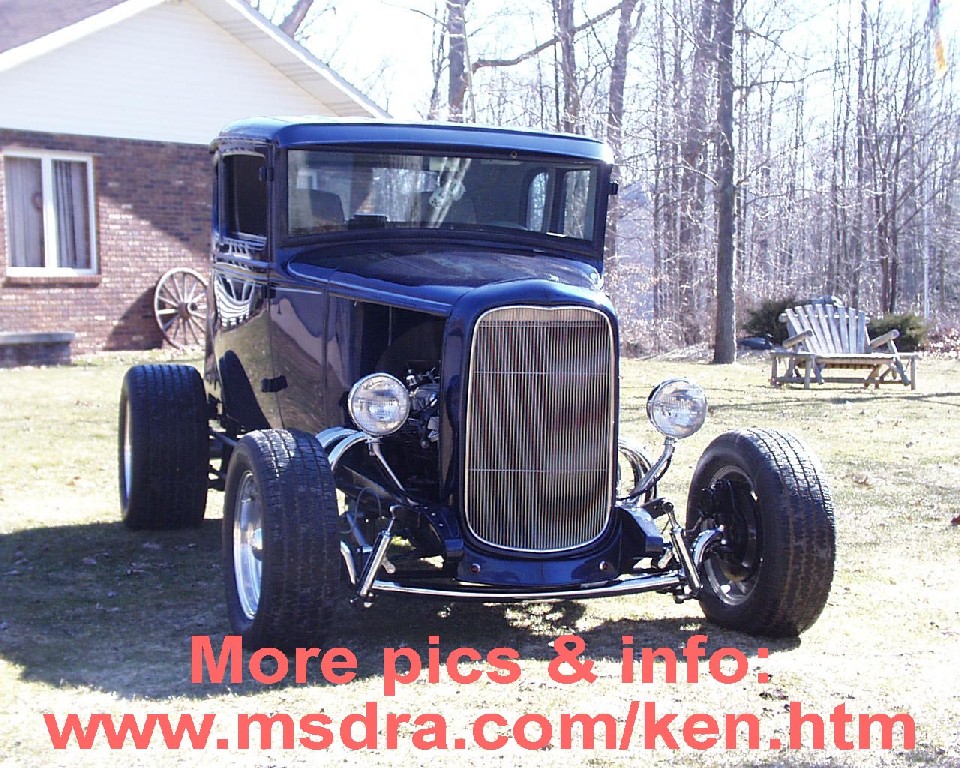 This is a steel-bodied 1930 Model A on (fully boxed) Model A rails. Filled (steel) roof, 3" chop. The only 'glass is the one-piece hood, the '32 grille shell and apron, and the rear "rolled" pan. All the rest is the genuine item. The entire vehicle and all components have traveled less than 1000 (trouble-free) miles since construction. All engine/transmission/drivetrain components that were not purchased new were rebuilt during the construction phase.
This car has "trophied" at EVERY show entered.
It's a Ford. So....it's ALL Ford.....except for the (arrgh!) 'Vette rear. Early '70's 302, C4 automatic.
Henry never built 'em with Chevys. Neither does Ken.
First off, an explanation. I'll do my best to answer any questions by email concerning this car (I did the "chop" and the chassis work) but I DO NOT OWN THE CAR. I'm simply helping a friend and customer market it. For details, it's best to contact the Ken, the owner (phone contact info below)....whom I haven't been able to drag into the computer age just yet.
Why is it for sale? Ken is faced with several choices:
1) Move from his present location so he doesn't have to drive 3 miles of dirt to get to a "real" road.
*NO chance.
2) Buy a trailer and have a "trailer queen".
*Nope. He builds 'em to DRIVE.
3) Go slowly insane cleaning it constantly because he's an absolute maniac about details.
*This is happening.
4) Become equally mentally unstable because he spends an hour driving the three miles to the pavement.
*This is also happening.
5) Sell this and go back to something with fenders.
*This choice was his final decision.
It should also be noted here that Ken is a good friend of mine. I pointed out the "dirt road"/"fenderless" issue long ago. I'm probably gonna' twist the "I told you so..." knife a lot.
I'm going to attempt to describe the car in detail, injecting pictures as I go on. All are thumbnails; click on them for high-resolution detailed pics.
ENGINE
Early 70's 302 out of a light truck, standard bore, everything fresh. Stock compression ratio, stock heads, fairly mild hydraulic cam (sounds "right"...), OEM Ford electronic ignition, Edelbrock aluminum intake, 600cfm Edelbrock non-emissions carb, and a TON of chrome and stainless (even the firewall...) FMS parts, etc. Detailed and finished extremely nicely. Starts/runs 100%, stays perfectly clean and dry, and there's nothing exotic to strand you in the middle of no-where. It's got a custom-built aluminum radiator, and stays cool under ANY circumstances.
C4 transmission is fresh, with shift kit, cooler, and a converter built for this car's eight and gear ratio.
It sounds great....runs strong, and it's DRIVEABLE. It's not some high-strung, high compression race-gas only beast. Fill it with no-lead, put it in "drive", and hit the road.
SUSPENSION
Front is four-bar, 4" dropped tube axle. GM disc brakes, cross steering with Corvair box (NO bump steer...), all hardware either chrome or stainless.



Centerline wheels, stainless trailing/control arms, and radials all the way around.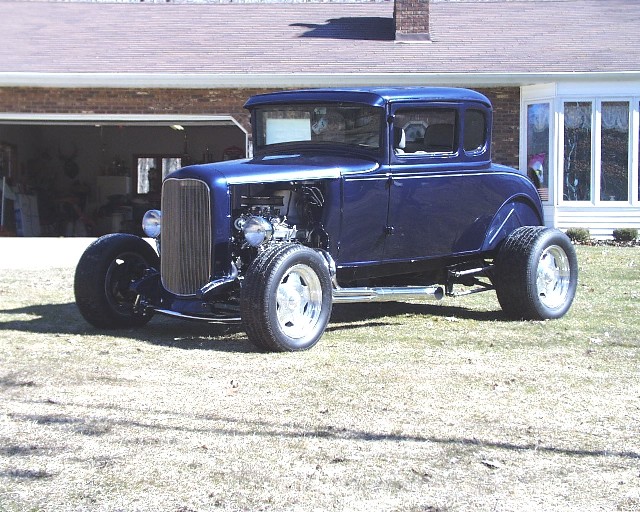 Rear is mid-80's 'Vette IRS, with some geometry changes to better suit the application. Torque arm, rubber mounted to transmission crossmember,

four-bar links to spindles, tie-rod assembly (new) dropped to maintain correct toe & camber throughout the suspension travel range. Stock Corvette four-piston rear discs, 2.73 gear ratio, aluminum half-shafts, new fiberglass mono-leaf spring. Entire suspension and center section is rubber mounted as it should be....the car rides/drives amazingly.
Here's a pic taken back when I originally put the IRS in. Without the rolled pan, and with it up in the air, you can better see the details (albeit, unfinished).

When this was installed, EVERYTHING was new. U-joints, tie rods, shocks, bushings, wheel bearings....the works.
Looks even nicer done...

Note (center) the vacuum-operated flip-down license plate mount. Details galore on this thing. Everywhere you look.
Brakes are set up CORRECTLY. The combination of a dual-circuit master cylinder

and four wheel discs necessitate a light touch on the pedal. It STOPS.
BODY/INTERIOR
As noted before, it's all steel. I did the 3" chop...


and added the (easily removable) glass hood and Deuce shell.

Since then, it's been finished in a Mercedes-Benz dark pearlescent blue, had the door handles removed (hidden latches), (remote!) power windows, and a (remote) power trunk opener added. It even has a hidden mechanical fail-safe latch on the right door if a dead battery is encountered!

It's "straight"....as evidenced by these pics down the sides....


Interior and (fully upholstered and carpeted) trunk is the highest quality, super-detailed upholstery job I've ever seen in a street rod. It was expensive....and it shows.
Note the scratch-built armrests,

the tilt column, "Gennie" shifter,

and the padded and upholstered dash.

Seats are gorgeous (and comfy)....

The upholsterer even put indented designs in the headliner, trunk upholstery and liners, and made matching windlaces for the door openings.
Trunk is amazing. Utterly amazing. It contains a stainless steel hidden fuel cell (correctly vented to the outside) and battery box, and a hidden toolbox/catch-all/glove compartment that is accessible from the driver's seat!

Note the seat backs. It's "pass through" from front to rear. Neat.


Dash has a full complement of (correctly operating) "Moon" gauges.

More details.....note the upholstered enclosures for the lower steering column and dash, and the fuse box and wiring.

There is also an externally accessible, but hidden master disconnect switch for the battery, and external charging posts. This is representative of the workmanship and quality of construction evident all over this car. Everything is finished correctly, built right, and you're not going to disassemble it and find a bunch of cobbled-up junk. Inside, outside, upside down this car is ALL "first cabin".
CONTACT INFORMATION
Obviously, an individual seriously considering a purchase/expenditure of this magnitude is going to have questions. Lots of 'em....I'll do my best to answer anything I can via email, but the best person to talk to is the owner.
Ken (the owner) can be contacted at (989) 773-1791 10 AM to 11PM EST. If you reach his "machine" leave him a number and time to contact you.
All Ken and I ask is that you don't waste our time and we won't waste yours.
The car is located in Central Lower Michigan near Mt. Pleasant. Call for viewing/showing appointment.
Vehicle is sold AS-IS, WHERE-IS with NO warranty expressed or implied. FOB Mt. Pleasant, MI. Delivery (on open carrier) available within a 250 mile radius available at $1.75/mi.