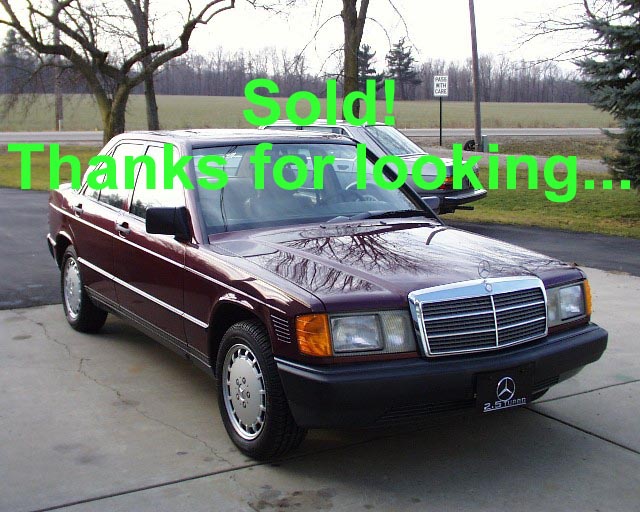 All pics are thumbnailed....click on 'em for a larger view
Forget all your prejudices about "sluggish" and "hard to start in the cold" diesel cars. The W201/190 chassis was produced (for the U.S. market) with the 2.5 Turbodiesel only one year; 1987; and it's arguably the finest diesel car Mercedes-Benz ever produced. The 2.5 Turbodiesel is common.....but other than the limited run of these 1987 W201's they all have seen service in the bigger cars. The horsepower and torque ratings of the 2.5 TD are HIGHER than the specs for the 2.3 gas motor commonly found in the 190/W201 series. This motor is absolutely indestructible. I've seen several customer cars with this motor approach 500K with nothing other than meticulous service and mantainence.
This exceptional example of the breed has less than 130,000 well maintained miles on it.

It has been in the (non-salty, no winter) Pacific Northwest for most of it's life according to the service records and the Carfax report. Worst-case...it's seen one winter (I've had it mothballed since winter started....not having the heart to drive nice iron in the salt...). It is ABSOLUTELY rust-free. Inside, outside, and upside-down.

Tires are at least 75% (Cooper Cobra radials), and it is 100% unmolested and unmodified right down to the (properly operating) original Becker cassette radio, the manuals, records, and the tool kit.

This car has been my personal "driver" since last summer. I've put about 10k miles on it, it drives as a new one; tight, quiet, and smooth, and consistently gets 30+mps while effortlessly cruising at 80 mph. A/C (still R-12...I serviced it) is cold, heater is hot, climate control operates flawlessly. All the toys/accessories/equipment operates flawlessly except the cruise, which has a mind of it's own and works when it's in the mood. Central locking system, power windows, power mirror, power sunroof all operate as new.
Ok....I'm fussy. I'm a painter/panelbeater/restorer by trade, I love cars, and I'm obsessive-compulsive as hell. I'm also honest.
Driving impressions.....there almost aren't any.....that's how nice it drives. The W201 chassis has proven over the many years of it's production to be one of the finest handling cars Mercedes-Benz ever constructed; taut, lithe, almost BMW-like, but with a better ride. This car illustrates all of that. I deal in nice examples of older European iron (champagne tastes on a beer budget...) and this car is honestly far above even my sometimes unrealistic expectations. The only reason that it's for sale is that I've purchased a (larger) 300SEL that is equally pristine but unfortunately more expensive.
Interior is perfect except for the aftermarket carpet mats.

They've obviously been covering the (pristine) carpeting since day one and they show some battle scars. Dash/console/wood is perfect, shiny, and no cracks.

Seats are leather, mint, and not broken down.


Trunk is equally mint.

All labels, decals, spare (matching aluminum rim) tire, jack, etc. are just as they were born. Spare tire is good, but not unused.

Paint/body. Paint is nice, mostly original. Under hood, door/trunk jambs are perfect.


Hood blanket is not perfect, but not unacceptable, either.

There's some touched-up chips/scratches here and there (after all, it IS 14 years old...), but it's nice, shiny, and exceptional. Everyone that has owned it has obviously been nice to it. Again, NO rust/bubbles, etc. I've looked. I know how to find 'em. There's some scratches in the hood and two small dings (behind hood star and top right corner of the grille).

The right front fender has what I'd call about a two-hour dent in it right behind the (telltale '87 2.5TD-only) air intake louvers.
Add $500 to your winning bid and postpone your pickup a few days and I'll refinish the fender/hood if you'd like. I do MB's and BMW's for a living and I know how to do 'em right.....or...do what I have. Driven it....and liked it.
Service records. They're complete EXCEPT for a (approx.) one year/20K gap. I've done a major service, checked brakes (already had been replaced), installed a new battery, replaced the water pump at 122K, and replaced one glow plug, and checked the rest. I also replaced the recalcitrant power antenna with a genuine Mercedes-Benz one. Also....IF you remember to remind me....I'll burn you a copy of the W201 Service CD and throw it in.
Now for the nitty-gritty details and disclaimers.
Seller is a licensed and bonded Michigan Dealer. Michigan residents will be responsible for tax (6%), title and registration fees.
Out of state purchasers will be responsible for whatever their home state requires.
I've done my best to describe the vehicle, feel free to ask any questions you may have......but keep in mind that you are buying the vehicle 100% as is, where is, and how is.
Buyer can be picked up at airport in Lansing or Grand Rapids, MI. I would have NO qualms whatsoever about taking off for parts unknown with this vehicle. It will happily and dependably travel as far as you want in any given direction until you hit an ocean. At that point I'd probably stop, or at least wear a lifejacket.
Vehicle is sold FOB Crystal, MI. Delivery within a 300 mile radius (at .80/mile....my transport has a rather healthy appetite for diesel fuel) is available.
Feel free to email me, jim@msdra.com , or call Everything Automotive 8-6 EST at (989)235-4000. I can provide you with more pics, or any requested information.....but don't waste my time and I won't waste yours. If you'd like the (huge) originals of all these pics to search for details, let me know and I'll email you a zip file, but you gotta have a GOOD connection.
Don't bid unless you want to buy, please. If you have ANY negative feedback, or a feedback rating of "0", BEFORE BIDDING CONTACT ME BY PHONE OR YOUR BID WILL BE CANCELLED. Sorry I have to do this, but in the past people have used Mommy's Computer without her permission.
Successful bidder will contact me by phone within 24 hours of auction completion and provide a Visa/Mastercard $500 NON-REFUNDABLE deposit. Balance (cash, certified check, bank money order) and vehicle pickup will be completed within 10 days unless PRIOR arrangements are made.