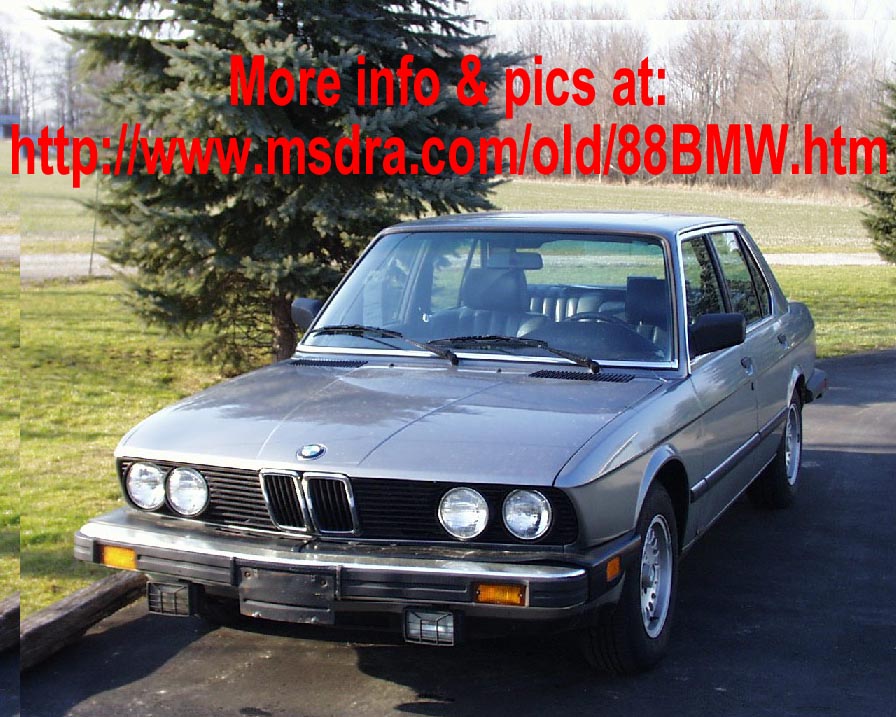 Pics are all thumbnailed. Click on 'em for a larger view.
Here's the ultimate in "Champagne Tastes On A Beer Budget". My trusty winter beater/parts chaser. Six cylinder, automatic transmission, power everything. It's certainly not perfect, but it's dependable, drives good, looks decent and it's CHEAP. Drive a dependable BMW that's cheaper than the neighbor's John Deere lawnmower. I've put several thousand miles on it, serviced it, adjusted the valves, replaced the brakes F & R (and resurfaced the rotors), the driveshaft (with a NEW BMW ONE...that's how you put new u-joints in a BMW.....$$$....grrrr....), the driveshaft carrier bearing, the shifter cable, and the rear half of the exhaust system and muffler. All the manuals, and some of the service records are still in the glove box.
Lotsa' miles (209K.....note speedo.....but it'll probably be 210K unless you buy it quick...).....but these things run forever (and I've driven it all over!)

I drove it just shy of 1500 miles last week on a (unsuccessful) Mercedes-Benz parts safari.
Prior to me, the car was purchased new in Grand Rapids MI, and owned by one family. Here's the Carfax. It appears to have been well maintained, and is in good shape for it's age. Starts and runs well (starts GOOD in the cold..), drives well, and doesn't seem to use oil to speak of (I've put almost 2K miles on it since the last oil/filter change and it's down less that a half-quart). I've been using it as an everyday driver since winter set in (to keep my Benz outta' the salt...). Consistently gets 25mpg according to the dash computer (which appears to be accurate).
Original BMW cassette radio works fine
as does the power antenna. Interior is decent.....clean, dash is nice, leather seats show some wear.....but no glaring gashes/splits/etc.




Carpet has been covered and is good. Central locking system works well, all the lights/gauges/dash gizmos work fine, rear defog works A-ok except for one wire near the bottom of the window, heater is great, all I can tell you about the a/c is that the compressor does kick on (I've never driven the car in weather remotely close to needing A/C..). Power pop-up sunroof works as it should, as does the cruise and the power mirrors. Power windows work fine EXCEPT the left rear. Worked fine.....stuck "down" one frosty night and then had the audacity to roll up just fine (after I'd driven 80 miles freezing my butt off ) when I parked it in the garage....and I haven't been brave enough to touch the button since. Once bitten, twice shy.
Trunk is clean,
there's a matching aluminum wheel with a good tire in there,

and believe it or not, the jack and ENTIRE tool kit are intact. Note the high-tech pine trunk lid prop that will be included at no extra charge (trunk lid shocks have gone on permanent vacation)..
Ok. Bad stuff. If you're realistic about what a 200K 14 year old car in decent shape should represent, there really isn't any. There's some rust beginning to show....nothing hideous......bottoms of both front fenders, few blisters on a couple door bottoms and a little one on the trunk lid edge, and a little starting on the lr fender lip. I'm going to be honest here. If you're overly worried about some non-structural corrosion existing in a 14 year old car, possibly you should be looking at something more expensive than an under-$2000 car.



Large Yellow Dog Pictured is not for sale.

Look at the rust. If it scares you, don't bid. I refuse to misrepresent this car. (If I'm going to be a crook, I'm gonna be a GOOD crook. I'll get your whole retirement a'la' Enron) If it was absolutely pristine....it would be expensive like the '87 528e

I sold about 6 weeks ago. $5000. It's an older (decent) repaint....but I can't see any sign of rust repairs at all, so what you see is probably what you get. One wheel center cap is gone. There's a few dings/chips...nothing hideous.....ding up high in the right rear door....a "wave" in the hood (that I couldn't get to show in the pics) where I'd guess some cretin sat on it. Tires are decent and safe.....rears are in excess of 60%, fronts are in excess of 30%. It's gonna want a pair of front tires within 4-5k miles. Fog lights are there, but just for looks. Battery appears to have been replaced recently....all I can tell you is that it started fine at slightly above zero after setting outdoors for a week. Someone has replaced the radiator in the past with an OEM BMW one.
Motor runs nice. No smoke, expensive noises, nothing. It's clean and unmolested under the hood.

All you get is a "sewing machine" noise out of the valvetrain.....the 5-Series motors run and idle a LOT better with the valves set a little loose. Runs down the road nice. Smooth, quiet, no shimmies/shakes/stupid behavior whatsoever. Transmission shifts nice, steering is tight and responsive like it was intended to be. I'm not the least bit afraid to drive the old brute anywhere, and I honestly think it's got a ton of miles left in it IF IT'S TREATED NICE. I can also assure you that if you buy it and flog it unmercifully pretending it's a cheap M5.....it'll die. It's not brand new.
Now for the nitty-gritty details and disclaimers.
Seller is a licensed and bonded Michigan Dealer. Michigan residents will be responsible for tax (6%), title and registration fees.
Out of state purchasers will be responsible for whatever their home state requires.
I've done my best to describe the vehicle, feel free to ask any questions you may have......but keep in mind that you are buying the vehicle 100% as is, where is, and how is.
Buyer can be picked up at airport in Lansing or Grand Rapids, MI. I would have NO qualms whatsoever about taking off for parts unknown with this vehicle, but.....at this price, when you buy it, it's YOURS, no matter what.
Vehicle is sold FOB Crystal, MI. Delivery within a 300 mile radius (at .80/mile....my transport has a rather healthy appetite for diesel fuel) is available.
Feel free to email me, jim@msdra.com , or call Everything Automotive 8-6 EST at (989)235-4000. I can provide you with more pics, or any requested information.....but don't waste my time and I won't waste yours.
Don't bid unless you want to buy, please. If you have ANY negative feedback, or a feedback rating of "0", BEFORE BIDDING CONTACT ME BY PHONE OR YOUR BID WILL BE CANCELLED. Sorry I have to do this, but in the past people have used Mommy's Computer without her permission.
Successful bidder will contact me by phone within 24 hours of auction completion and provide a Visa/Mastercard $500 NON-REFUNDABLE deposit. Balance (cash, certified check, bank money order) and vehicle pickup will be completed within 10 days unless PRIOR arrangements are made.