What kind of a moron does a "frame up" restoration on a station wagon?
Me........
You found my "Long-Term-Project-For-Me"...
At .02/hour I've got a fortune in the stupid thing forgetting the parts.....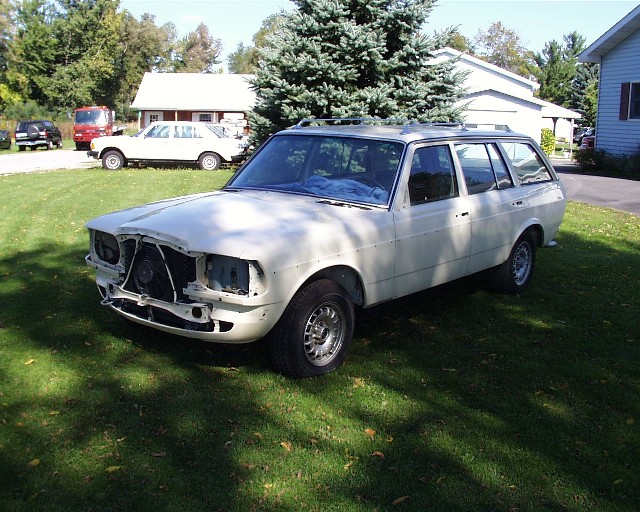 Now it'll be crystal-clear why I've got Arizona doors I don't need....and tons of 300TD bits.
7/5/00





Note the engine compartment. That's how clean it CAME.




Bought this old thing out of a field up north. Less that 100K miles, ALL books/records/tools/etc., but RUSTY. Winched it on the transport, brought it home, drained the fuel tank, changed the filters, replaced the battery, and it fired up like it was warm. Been settin' in the weeds for far too long as result of a divorce. NICE inside, everything works, runs/drives like low miles.....and looks that way under the hood. But boy....the bottom 6" of this poor thing is hurt.
8/3/00



That's daylight in the driver's side footwell.....and that rust streak below it is FAR more than cosmetic.

After taking it apart.....gutting fenders/seats/carpets out of it, it's HURT. I can fix it, but it's structurally hurt. Typical W123 cowl rust when all the drains get plugged up with leaves/pine needles, etc. Bad juju.
9/1/00

MADE panels.....fitted and mig'ed in.....with the car on a frame rack to keep it "true". This is where the front structure & apron mount to the body. Important parts.

Black stuff is POR15. Amazing stuff. [4/02/02 addendum. This (now "parts"...) car has been setting out in the weather for two years, uncovered....NONE of the seams/repairs...or any of the POR15'd spots have shown the least sign of further rust.]



I took a sedan quarter, cut both for an overlap under the side molding, and used 3M GLUE (new stuff...) to glue this seam. Result? No warping, no welding, and no finishing necessary of the front-to rear seam save about 3" near the taillight opening, and at the front edge. Trim hides the whole thing. Purty freakin' clever fer' a old bald panelbeater.
9/21/00


Quarter finished out rather nicely.


Doors pulled, and ready to start fitting four pristine ones from Tri-Star Pete's in AZ.
In the meantime I'd bought this "parts" car off ebay. Dirt cheap, same color inside and out. Shipping cost more than the car. Figured I couldn't go wrong.


Bidding is closed for this item.
Currently
$560.00
Time left
Auction has ended.
Started
Sep-05-00 11:12:48 PDT
Ends
Sep-12-00 11:12:48 PDT
Seller (rating)
left.blank (34)
High bid
jim@msdra.com (16)
# of bids
3 (bid history) (with emails)
Location
Portland OR
Country/Region
USA/Pittsburgh
Payment
Money Order/Cashiers Checks, See item description for payment methods accepted
Shipping
Seller pays for shipping, Will ship to United States only, See item description for shipping charges
Item Revised Before First Bid
To review revisions made to this item by the seller, click here.
Relist item
Seller: Didn't sell your item the first time? eBay will refund your relisting fee if it sells the second time around. Relist this item.
(mail this auction to a friend)
Watch this item

·
240000 Miles
·
5 - Cyl.
·
5 doors or more
·
Automatic transmission
·
Used
·
Clear title
·
Beige/Tan Exterior - Beige/Tan Interior
Options

| | | | | | |
| --- | --- | --- | --- | --- | --- |
| · | Air conditioning | · | Cruise Control | · | Power Locks |
| · | Sunroof | · | Cassette | · | Power Windows |

Seller assumes all responsibility for listing this item. You should contact the seller to resolve any questions before bidding. Auction currency is U.S. dollars ($) unless otherwise noted.
'81 Mercedes 300TD Turbo Diesel Wagon
This car was my daily driver for two years, and was recently replaced with an '82. I had intended to rebuild the engine and repair the interior, but have no time. Must get it out of the front of the house or my wife will leave me.
Engine starts and runs, but compression is very low. Cruises nicely on the freeway, turns and stops well. Interior rough (PO had large dogs) and needs repair. Tires good. Manual sunroof, power door locks and windows work fine.
Please look at photos and inspect carefully. Sold as is/where is in Portland, OR. Would arrange delivery or drive within 500 miles.
25% of purchase price is due by certified check within 5 days of end of auction, balance 5 days after that.
Email with questions.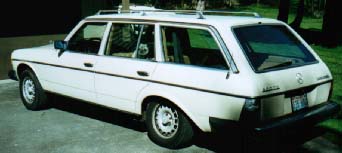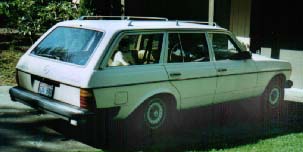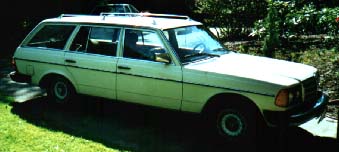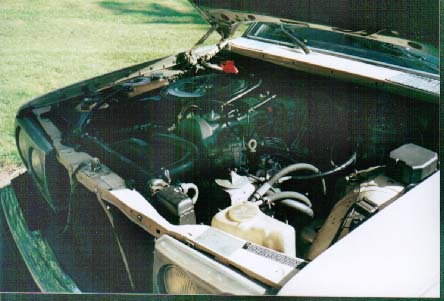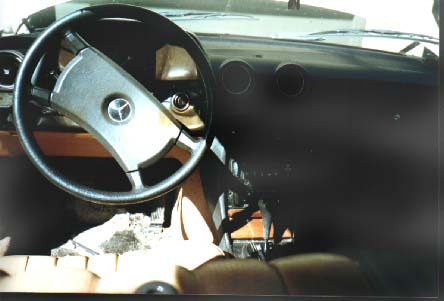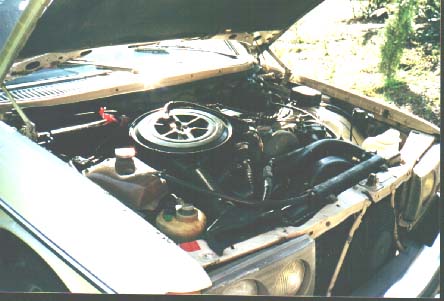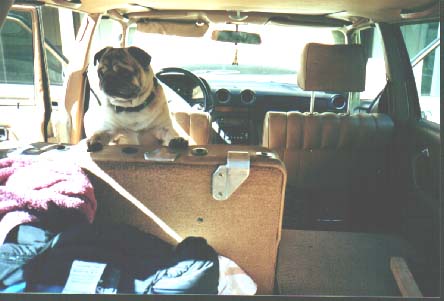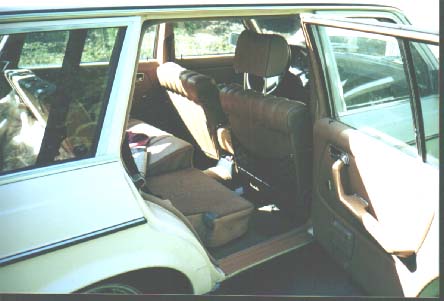 On Sep-07-00 at 18:33:39 PDT, seller added the following information:
Car is located 25 miles north of Portland, OR. Can't figure out how to get "Pittsburg" out of the header.
Bidding is closed for this item.
If you're the seller or the high bidder - now what?
Contact each other. The seller (left.blank) and the high bidder (jim@msdra.com) should contact each other within three business days to discuss payment and shipping details.

Leave feedback for the other party once the the seller has received the payment and the winning bidder has received the item.
Leave feedback to seller - Leave feedback to bidder.
Details for the seller and high bidder(s):
The seller should contact the winning bidder(s) with information on the total cost, including shipping, and where to send payment. The winning bidder(s) must pay the seller directly for the item(s), and it is the seller's responsibility to fulfill the order when payment terms are met. The binding contract of the auction is between the winning bidder and the seller.
If the seller is unable to establish contact with the high bidder within 3 business days of the end of the auction, he/she may lose the place as winning bidder, and be at risk for receiving negative feedback and/or a Non-Paying Bidder warning, both of which can ultimately lead to suspension from eBay.

10/15/00
Car from Oregon had been delivered.....spent a day and finally got it coughing/gagging/wheezing/running....thank God for a "rear" pump in an automatic transmission....towed it about a mile......and I got some surprises. First....the ad stated "interior rough, PO had dogs". Could be. Smelled like dogs. However, the interior damage looked more like wolves or grizzly bears. No biggie. The real surprise was the body. Scratched, dinged, faded, and gouged on every panel, but just exactly NO rust. ANYWHERE. Even under the (water soaked) carpeting (leaked EVERYWHERE. All the rubber in the car was shot). This thing was as solid as it was when it rolled outta' Stuttgart. "Compression Is Very Low" the ad stated......well, yeah. You gotta' *occasionally* adjust the valves, Virgil.... The 250k motor wasn't even terribly "tired" (other than *everything* leaked....looked like the Exxon Valdez had been parked in my shop) after I adjusted the valves, put in some fresh fuel, and ran the piss out of it..
Major directional shift in this project coming......
The parts car became the "project".....and the partially done "project" became the parts car.......and the restoration kinda' shifted into a "I wanna brand-new '81 Mercedes wagon". That's what happens when you're obsessive-compulsive as hell. That's not a good thing.
First I switched the ENTIRE drivetrain. Engine, transmission, rear suspension, steering gear....literally ANYTHING I could unbolt off the low mile '85.....added all new bushings, mounts, etc.......and rebuilt the whole front suspension and had it aligned. Detailed and finished out the engine compartment like a new one, and switched EVERYTHING on the motor to preserve it as an exact '81. It's even got all the "correct" stickers and "tie wraps" in the correct places. G. Daimler hisself couldn't tell that motor's been outta' there. Had all new calipers/brakes/hoses/rotors here for the '85, so I did all that too.

Max looks impressed. This was taken the day the '81 was dropped off. Note the tools scattered all over from coaxing it into running.
'85 engine/transmission hanging on a hook.
11/7/00

With the drivetrain and all mechanical restoration completed, I buffed the bejeezus out of it (looked good from about 20'.....), de-skunked the (disastrous) interior (enough so I could drive without my paint respirator on) and drove it......to check out and de-bug it. Threw a set of Euro headlights in it to see if I liked the looks. Put almost 2K trouble free miles on it in a month. Messed wif' the pump timing and the wastegate a little and it runs surprisingly strong for a "greaseburner".....
12/9/00

Now down to some major disassembly and restoration. Pulled the entire interior (while parked right next to my two-yard dumpster).....went inside with a steam cleaner..... and removed the dash and instrument cluster. The '85's dash was utterly flawless, as was the steering column and instrument cluster....and it had a tach....so I switched EVERYTHING......including the ENTIRE wiring harness. Switched the windshield, too, and added a new rubber mldg, and buffed the trim.
12/21/00

Poor old '85 is abandoned in a pre-Christmas snowdrift.
1/9/01



Ferreting out dents/dings/flaws. New OEM Benz front fenders are fitted and edged in. TONS of little dings. Everywhere......major hail damage on the hood and roof (or some mental defective walked on the damn thing...). Used one of my AZ doors just because the passenger side front door on the '81 looked like someone had thrown a door into it about three million times. Now it's prime,block sand, and obsess over, and over and over, and over..........and over...... Gotta be PERFECT.
10/02/02
I said it was long term....
Pretty well ready for paint. Primed and "blocked-out" by hand God know how many times, alternating colors to get 'er REALLY straight. Last coat of primer was tinted to approximate the color of the car to assure uniformity of the final finish.....because this particular color (sand beige) doesn't "cover" well when using bc/cc urethane.
New seals. fuzzies, and slides on the (already painted) sunroof.....fit and adjusted, I'll unlatch and mask this seals and all (edges of roof opening are already refinished also).

BTW.....don't even *try* to learn to fit & adjust one of these without the service book/CD.
Wet sand the whole thing first by machine, and then by hand, mask it off....and it's (finally) ready for paint. The $64000 question is, will I do it now, or put it back in the storeroom.....
10/03/02
Believe it or not.....it's getting painted. Two stages.....so I don't have problems keeping it "wet". First stage is roof+rear quarters+rear hatch (breaking it up this way allows me to break spray sessions at the rear door jambs.


Roof/rear quarters/hatch/all jambs painted.....and the remainder's "prepped". Ready to roll back in the spray booth for "stage 2".
10/05/02
Shoulda' painted it black....the beige doesn't do justice to the time spent getting it "straight". Back into the storeroom....hopefully it won't be *another* two years before it's completely finished.
10/07/02
Parked it outside long enough to take some pics....rockers are stoneguarded and painted, and it's now relegated back to the storeroom.
I've got everything to assemble it except tires, carpets, and time.
11/07/02
Snuck it in the shop between a couple of "customer" jobs (shhhhhh.....don't tell the payin' customers)......installed the grille, (Euro) washers & lights, bumpers and rubber surrounds, and added a set of (rare!) 6.5" alloys, refinished and shod with (new....ouch...) "H" rated 225/60-14 tires. The headlight washer/wipers were a bitch.....I had all NOS stuff except the wiring harness (that was originally separate from the main one). I found pics and a schematic.....and BUILT it with all official MB connectors, loom, tie wraps, etc.....and routed it like it was supposed to be. Thank God for parts cars.....
It's startin' to sorta' resemble a car again.
Now....if I get another couple days sometime to "cut & buff" it, I can put on the rest of the moldings, door handles, and finish the outside.
I'm still waiting out by the mailbox for donations for carpets....if I had 'em, I could install the (absolutely pristine) interior. Speaking of pristine, try finding one of these, in this condition.....

9/03
It's still setting. I did screw a ragnasty old seat in it and actually drive it to town to put some fuel in it. The low fuel light had been on for a year and a half..... The outside's done, (new) trim and all.....the mint dash and console is in....third seat's in.....just gotta' stitch up carpets.
Maybe someday.....
3/05
Like I said above...maybe someday. Or....maybe never... Looks mighty fine until you get close enough to look in the window....