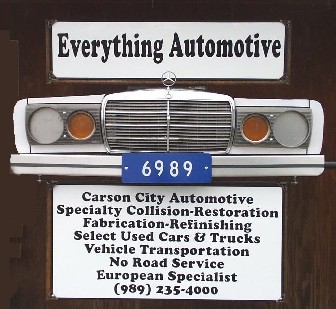 Rebuilders/Projects
or call:
(989)235-4000 8-5 EST Mon-Fri.
Cars for sale Used Mercedes Parts Other Services Home Page
Where are we located? Click here!
Please email or call for current vehicle price and stage of completion. Because of the nature of my shop operation, "rebuildable" vehicles normally are a "work in progress", used to fill in between customer jobs.
I can assist you in arranging surprisingly economical "door to door" shipping
All pics are thumbnails-click for larger views
This page last updated 07/14/04

'83 300TD, OM617 turbodiesel/automatic, 259K, runs extremely well, but will NOT start well below 30 degrees unless it's plugged in. It hates winter like I do. Sooo.....I plug it in. It keeps my nice iron offa' the road and outta' the salt. NICE running, driving car. (I'm actually driving the car it's in everyday as a "parts chaser"/beater). Doesn't use any oil....doesn't use a lot of fuel....26 mpg at 75 mph. I know. I ran a whole tankfull out on the expressway. Buy it and drive it home absolutely ANYWHERE. Your basic ugly old 300TD wagon....but the chassis is 100%-good tires, brakes, completely rebuilt front suspension, but cosmetically it's a toad. I bought it as parts....but haven't "knocked it in the head" just yet. Power windows all work, climate control's fubar (heat works GREAT, but A/C's gone south), some interior trim's been scavenged. No "serious" rust issues......it's just cosmetically TACKY. It's a helluva' lotta' W123 parts or a great beater for $1500


'82 300SD, 226K, Absolutely rust-free Texas body (faded original-appearing paint), 100% complete, good chassis, brakes, and rubber, 5 alloys, many updates, semi-tacky interior, nice wood, dead OM617 turbodiesel (read "dead" like NOT repairable....broken timing chain and resultant MAJOR engine damage). Parts or project. $800