The MSDRA Snowmobile Racing website is now http://www.msdraracing.com/
Welcome to usedbenzparts.com!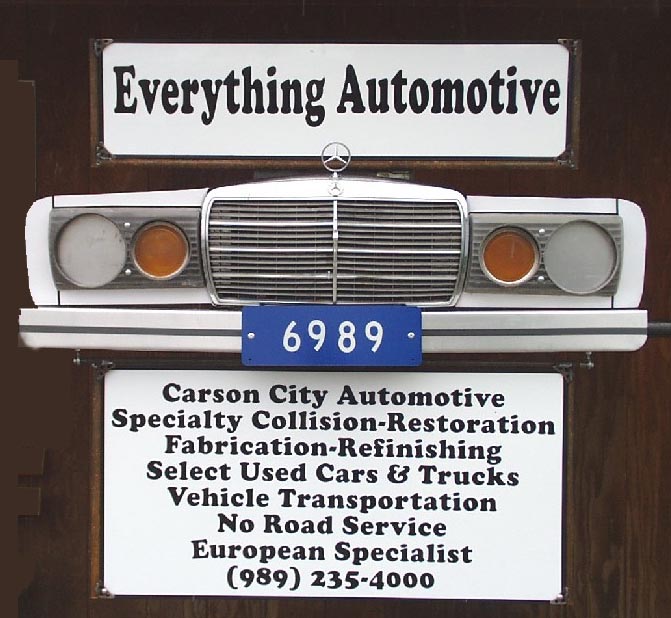 Where are we located? Click here!
Everything Automotive
Carson City Automotive
6989 E. Sidney Rd, Crystal, MI
(989)235-4000 Monday-Friday 8:00-6:00pm EST
I usually have some interesting vehicles for sale, and lots of Mercedes-Benz parts.
Always purchasing select Mercedes-Benz repairable/parts vehicles. Contact me!
Used Mercedes Parts & Parts Cars
Used Tracker/Sidekick/Samurai Parts
A Fordcedes-Benz? Eh? That's sick!

Vehicles currently for sale.


'80 280SLC (Euro-spec), M110 DOHC 6-cylinder/automatic, 172K KILOMETERS (107K miles), runs extremely well. Typical Euro car....crank windows, cloth (heated!) seats, power sunroof, no cruise, goofy VIN number that CarFax doesn't savvy. No smoke, stupid noises, or anything. NO rust, gorgeous paint, new tires, good brakes and rides/drives "tight". Nice clean brown (cloth) interior, good glass and gorgeous chrome and truly outstanding cosmetics inside and out.....a really "standout" nice car. All "Euro" equipment intact including speedometer, shortwave radio, "Euro" headlamps, rear fog light, etc., etc.. This was someone's "baby". Everything is unmolested/unmodified. Bill of sale ONLY, $3500 FIRM, no trades, no temporary or "in transit" registration.

'79 450SL Really nice (read solid) Southern car (Georgia), both tops (ragtop and all seals are new), new Michelins, frt. suspension rebuilt, exceptionally nice interior, seats, dash and wood. Lotsa' miles, runs decent, drives great, but motor is TIRED. Available with a low mileage engine and tons-o-new-parts or separate. Inquire. Car and ALL parts $5500 firm.

A customer's '30 five-window. Steel-bodied, Ford-powered, 'Vette IRS. As nice as they come.

Sold Vehicles. Check out the nice iron that's come and gone!

For prompt, dependable vehicle shipment at rates FAR under the "big players", contact:

Phone (423) 339-0921