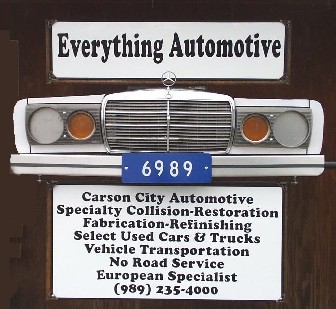 SOLD UNITS
Someone beat you to these!
Most pics and descriptions are still available-click on the pics

SOLD '76 450SL, 126K, complete, hit frt. center. "Lot" driveable. Both front fenders ok but needs a windshield, bumper, hood, radiator, condenser, & grille. Parts or project. Clean Ohio title.

SOLD '79 300D Lt. Ivory, Palomino MB Tex. REALLY nice body, very "straight" and very little rust (Florida history). There's a few blisters and that's IT. 279K, start/runs EXTREMELY well but needs TLC due to 2+ years of inactivity. Floorpans, undercarriage, exhaust is 100%, decent tires, interior is surprisingly nice, clean and unfaded w/nice wood.

SOLD '56 Ford Thunderbird, 312/auto. Green, green/white interior. Older restoration, originally a true "concours" car. Estate sale. Runs/drives/looks 100%.

SOLD '93 300E 2.8/Auto. Silver blue/blue lower cladding & fascia, (heated) blue-grey leather. Low miles (116K), most (if not all) options, OEM MB/Motorola integrated phone. Really outstanding cosmetics and condition inside and out. Everything's there and it ALL works perfectly. Recent new tires, brakes, fully serviced, tons of receipts, one (picky) owner.

SOLD '84 190E 2.3/Auto. Low miles (118K) NO RUST (from Hawaii!), Sand Beige, Palomino MB-tex interior. Cold R-12 a/c Power seats R & L, alloys, newer rubber. NICE older W201, nice body w/ mostly original paint. Click on the pic for complete description.

SOLD '90 300SEL white/grey lower cladding & fascia, (heated) maroon leather. Low miles (114K), with all books/tools/first aid kit, even the original (almost $60K)window sticker and most records. Euro lights, clear corners, wipers, all the toys and they all work flawlessly, no modifications. R134a A/C update, new H rated Bridgestones, absolutely immaculate inside, outside, upside-down. Mostly original paint on a Florida-winters body. This is honestly as nice as they come. If you're obsessive-compulsive like me, this is the one you're looking for. SOLD.

SOLD '89 190E 2.6 A "baby 500SEL". GORGEOUS, fast car. Black/charcoal lower cladding, burgundy leather, most all the toys, right down to headlight wipers. One meticulous owner, 107K actual, original everything, and everything works. New rubber, new (stainless) exhaust, new alt. & battery, brakes, on and on and on..... A truly striking, absolutely MINT, way "beyond the ordinary" automobile. For the really obsessive-compulsive (like me!) buyer.

SOLD 84'190D 2.2 First year of the virtually bulletproof W201 chassis. Really outstanding old car under the weak (80% original) paint.

SOLD '85 300CD, OM617 Turbodiesel/Auto, Astral silver, (absolutely PERFECT) Navy leather and carpets (w/carpeted mats), all options. Cosmetics, paint, interior and body are officially the nicest I've ever seen. So. Carolina car, NO RUST EVER. Manuals, tools, first aid kit, Becker AM/FM/tape, ALL accessories and toys work FLAWLESSLY.

SOLD '72 300SEL 4.5 Auto, A/C, (correct) Becker Mexico AM/FM Cassette, black w/cognac (buckskin/lt. brn.) ORIGINAL (gorgeous) leather. Cosmetic restoration on an Arizona car. No winters! As rustfree an example as you'll find.

SOLD '83 240D, stick, manual windows, 198K, all service records.

SOLD A gorgeous '92 300E Mercedes-Benz. Exceptional vehicle; priced right.

SOLD '90 Mercedes 300SEL. Less than 100K, all books/service records, Florida winters. As nice as there is out there.

SOLD '82 Mercedes 240D/stick....virtually rust-free! I don't find them like this very often.

SOLD '88 BMW 528e. Cheap and dependable.

SOLD '87 Mercedes 190D 2.5 Turbo. RARE car, low miles. Exceptional!